AWARD-WINNING AUTHOR KYLE IDLEMAN PROVIDES HELPFUL INSIGHTS FOR FAMILY MEMBERS NEEDING GUIDANCE FOR THOSE FAR FROM THEIR FAITH IN 'PRAYING FOR YOUR PRODIGAL'
Supplement book to AHA: The God Moment That Changes Everything
available nationwide through David C Cook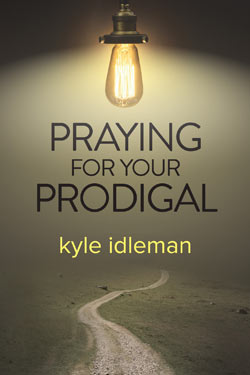 NEWS SOURCE: Rogers & Cowan
August 6, 2014
Los Angeles, Calif. (August 6, 2014) - Kyle Idleman, author and pastor of Southeast Christian Church in Louisville, Kentucky (the fourth largest church in America), announces the release of Praying For Your Prodigal. Currently available nationwide through David C Cook, Idleman's latest project is a supplement to his most recent book AHA: The God Moment That Changes Everything. Drawing on inspiration from AHA, Idleman provides guidance for readers who have "prodigal" loved ones that have strayed away from their faith and God.
Praying For Your Prodigal is a hope-filled, honest book that includes first-hand stories about prodigals. Each chapter begins with a personal letter from parents and grandparents of prodigals woven together with content and commentary from Idelman's AHA. The condensed, easy-to-navigate booklet (96 pages) provides readers with helpful ideas on how families can pray for their loved ones closest to them who may be far from God.
"My greatest desire is to help people deepen their sense of faith in knowing how to pray for their prodigals," says Idleman. "God is always there waiting - we just have to run to him."
Praying For Your Prodigal offers hope to those who need it most and contains personalized prayers as well as space to journal. Chapters include 'The Hard Way,' 'I Stopped Running From God,' and 'Facing The Truth," among others.
For more information, please visit:
https://twitter.com/KyleIdleman
Praying For Your Prodigal
By: Kyle Idleman
David C Cook
Trade Paperback
Page Count: 96
ISBN: 978-1-4347-0771-0
Release: August 1, 2014
Price: $4.99
About Kyle Idleman
Kyle Idleman is the Teaching Pastor at Southeast Christian Church in Louisville, Kentucky, the fourth largest church in America, where he speaks to its more than 30,000 members throughout the year. He is the author of the books Not a Fan, Gods at War and the recently releases, Aha. He is also the presenter of the award-winning video curriculum "H2O: A Journey of Faith," "Gods at War," "The Easter Experience," and the "Not a Fan" DVD teaching series. Idleman speaks at regional and national conventions and conferences and regularly teaches at some of America's largest and most influential churches. Kyle and his wife, DesiRae, have four children.
About David C Cook
David C Cook is a leading nonprofit resource provider serving the global Church with life-transforming, Christ-centered materials. Headquartered in Colorado Springs, Colorado, with offices in Illinois, Canada and the United Kingdom, David C Cook's resources are published in over 150 languages and distributed in more than 160 countries. Originally founded in 1875 as a curriculum publisher, today David C Cook publishes numerous bestselling fiction and non-fiction books from a variety of award-winning authors. It is also a leading provider of worship music through its Integrity Music label, which produces over one-third of the top 100 praise and worship songs sung around the world. Additional information can be found at www.davidccook.com.
# # #