Audrey Assad Shifts Focus From Solo Career To New Project, LEVV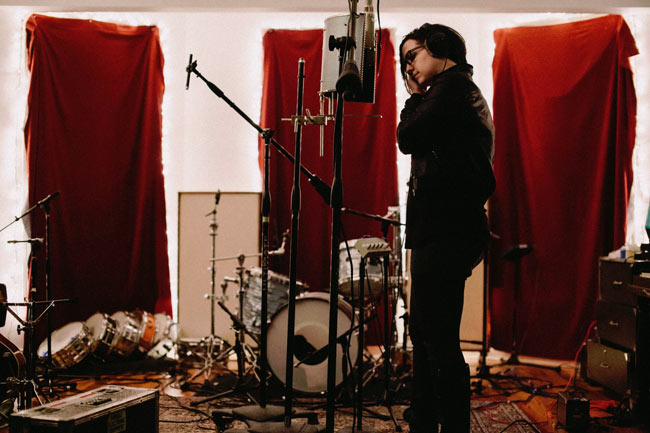 NEWS SOURCE: Audrey Assad / Jesusfreakhideout.com
August 28, 2014
Audrey Assad has been busy working on a new project as of late, called LEVV. Today, Audrey made an announcement that she'll be shifting the focus of her musical endeavors from her solo career to something called "LEVV." Details are limited at this point, but she did say that the projected release for the first thing under the name LEVV will be "early 2015." You can find LEVV on Facebook here.
Check out Audrey's announcement letter below:
Dear friends-
I am writing to share some very exciting news. Almost three years ago, I began to craft a plan. I'd been inspired by many of my most beloved artists and authors to pursue the dreams in my heart and to create bravely. I came to feel that my mission as an artist was twofold; on one hand, to make Church music, and on the other, to make pop. I found a deep dissatisfaction trying to mix the two, and after several long months of discussion with my label it became clear that a partnership no longer made sense. So as I planned the next few years as a newly independent artist, I felt that it made sense to focus on Church music first, while forming and shaping the other part of the vision in the background. We did our kickstarter (THANK YOU!!) and made Fortunate Fall, the O Happy Fault live album, and Death, Be Not Proud.

And now-I am so very elated that I will soon be able to introduce you to the other piece of the puzzle. I have poured so much heart and soul into LEVV, and have just recently finished tracking an EP that we hope to release early 2015. I can't wait for you to hear it.

The other bit of news is that, as I split with my label and began to plan for the future, I decided after much prayer and consideration to continue to make Church music (I imagine I always will) but to shift the weight of my touring and marketing focus to LEVV and other projects. There are many reasons but I'll just give you one-I was (and am) no longer comfortable with ministry as a career. So I will still be releasing occasional Church music records, as well as ministering here and there with certain friends and organizations whom I love and trust-but I will no longer be touring full-time as a Church musician. This fall tour is a farewell of sorts.

I am very, very happy and thankful to have been given your support many times in the past. I hope you will continue journeying with me now.
We'll be letting you know how you can stay tuned for developments and how to follow LEVV from here.

XOXO,
Audrey
- ### -
For more info on Audrey Assad visit the JFH Artists Database.