Don Moen Hosts Christian Tour to Israel with Worship Leaders and Songwriters Lenny LeBlanc, Paul Wilbur and Author Stephen Mansfield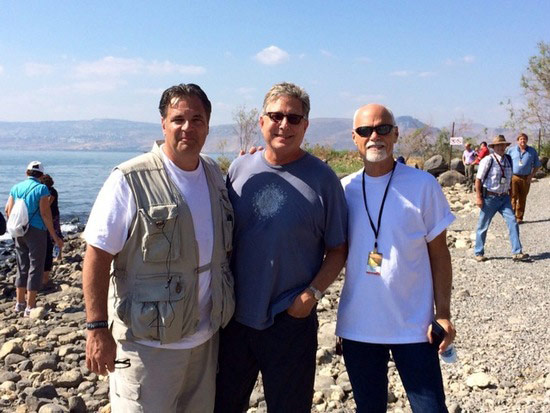 Left to Right: Stephen Mansfield, Don Moen, Lenny LeBlanc
NEWS SOURCE: Bozeman Media
September 22, 2014
Nashville, TN (September 22, 2014) ----- Don Moen just returned from hosting a Christian trip to Israel last week that featured fellow worship leaders and songwriters, Lenny LeBlanc, Paul Wilbur and New York Times best-selling author, Stephen Mansfield. The ten-day trip, which was joined by fans and friends of Moen, included such activities as communion at the Garden Tomb and worshipping on boats crossing the Sea of Galilee. Also included on the tour were visits to such incredible sites as the Upper Room, Mount of Olives, Gethsemane, Mount of Beatitudes, Southern Steps, Western Wall, and the Dead Sea.
In early October, Moen will be heading on a two-week Asian concert tour that will visit such cities as Singapore, Jakarta, Indonesia and Manila, Philippines. During his concerts, Moen will be sharing the ministry of Worship In Action, a Nashville, TN based charity that has a long-range plan to provide hope for the poor, aid after natural disasters, and care for orphans around the world.
For updates about Moen, his concerts and Worship In Action, please visit online at www.donmoen.com, www.facebook.com/donmoenmusic, www.twitter.com/donmoen and www.worshipinaction.org.
###