RAVE MINISTRIES LAUNCHES THIRD ANNUAL "NO MAKEUP NOVEMBER" CAMPAIGN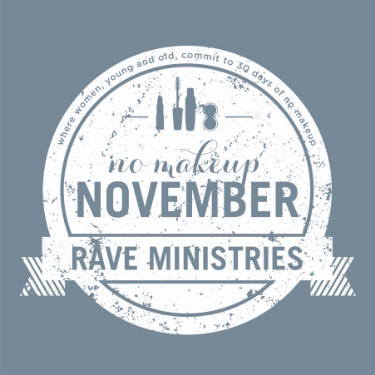 NEWS SOURCE: Nashville PR
October 8, 2014
(NASHVILLE, Tennessee) -- RAVE Ministries, a non-profit ministry for teenage girls, has launched a campaign to encourage girls and young women to say YES to God-given beauty. During the month of November, RAVE is launching its third annual No Makeup November, a 30-day challenge to commit to going without makeup.
No Makeup November is a 30-day proactive campaign to help girls (and women) find community and solidarity with others who are taking the challenge. The effort is intended to focus on the natural beauty that God gave all women when they were created. The campaign has a signature t-shirt along with a support sticker and 30-day journal. Participants are encouraged to journal throughout the month so they can go back later and reflect on what they felt and learned during the challenge.
"This campaign in no way is an anti-makeup campaign, because let it be known that it is not the makeup that we are battling," says Becca Daniel, founder of RAVE Ministries. "Instead, it is a culture that we are trying to fight. A culture that tells our young girls, mothers, and yes, even grandmothers that they are not close to being good enough. That in order to be of worth you must be physically beautiful, that unless you are a specific size you should be cast out, that the true amount of your worth is based upon one simple yet important factor, one's physical appearance."
Women in America alone each spend an average of $12,000 a year on beauty products. This statistic alone sums up the battle women are facing in our culture. The beauty industry is a worldwide machine whose value is estimated somewhere between $45-66 billion dollars. In these uncertain times taking a month off of makeup is not only a pretty good idea, but also a little easier on the wallet.
Many celebrities have been supporting the "barefaced/makeup free" movement. And while many girls and women will do a day here and there, No Makeup November takes the concept a step further, which is what makes this campaign truly unique. Doing one makeup-free day makes a statement to others around you. Doing this for 30 days starts transforming you from the outside in.
"Beauty has no age barrier," says Daniel. "Beauty is not limited by skin type. Beauty is not measured by ones ability to cover a blemish or the quality of makeup that their pocketbooks allow them to buy. It is our hope that women everywhere can see themselves as a true masterpiece intricately and purposefully woven together by the Creator of the universe."
In 2013, the No Makeup November campaign had thousands of participants, representing 35 states and 8 countries.
RAVE is a ministry created for girls by girls. They deliver their message with hands-on curriculum presented in a fun, interactive way. RAVE desires to create a community of girls through media, apparel, conferences, retreats and more. Follow RAVE on social media for campaign updates, and use the No Makeup November hashtag: #NMN.
facebook.com/raveministries
twitter.com/RAVEministries
instagram.com/ravenomakeupnov
For more information on No Makeup November, visit www.ravenomakeupnov.com.
- ### -