LAURA HACKETT PARK'S 5-STAR ACCLAIMED STUDIO ALBUM, LOVE WILL HAVE ITS DAY,
RELEASES TODAY FROM FORERUNNER MUSIC
Dove-nominated Hackett Park Weds Fellow Worship Leader, Labelmate Jonas Park During October 4th Ceremony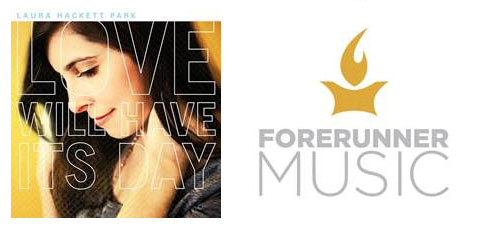 NEWS SOURCE: Hoganson Media
October 21, 2014
October 2014 is proving to be a significant month for Dove-nominated singer/songwriter and accomplished worship leader Laura Hackett Park. Not only is her new, 5-star-acclaimed album, Love Will Have Its Day, releasing today from Forerunner Music, the official record label of the International House of Prayer of Kansas City (IHOPKC), but Laura also "tied the knot" during an October 4th wedding ceremony with fellow worship leader and labelmate Jonas Park.
Married during a private ceremony for family and friends in Kansas City, MO, home to IHOPKC, the songs from Laura's Love Will Have Its Day are quite personal, born of the events of people in Laura's life. "Got Something Going On" was written for her new husband as a testimony to their collective perseverance, while "Beautiful Heart" was written for a singer friend who had a vocal injury and "Lift Up Your Head" was inspired by a friend suffering from chronic pain. Drawing the title of the album from "Lift Up Your Head," Laura sings, "Breathe, darling, breathe. It's not yet time for you to leave. Love Will Have Its Day. Lift up your head. Turn your face to the rising sun while you wait, while you wait for redemption to come."
The full, 12-track album, armed with strong, thematic songwriting and emotional vocals that finds Laura exploring a much broader range of music than ever before, uses a full musical palette to convey the truth of its theme: if we can walk through this life anchored in Christ, then in every situation we know that love will have the final word, and we live with hope.
Produced by legendary, multiple GRAMMY and Dove Award-winning producer Brown Bannister in collaboration with noted producer/songwriter Ben Shive (Brandon Heath, Bebo Norman, JJ Heller, Andrew Peterson), Laura is already garnering significant media attention. Outlets such as Worship with Andy Chrisman, Charisma Magazine's SpiritLed Woman, LeSEA Broadcasting's The Harvest Show, CBA Retailers+Resources, CCM Magazine, Cross Rhythms Magazine and others have already covered Laura and her new recording as the critics continue to applaud Love Will Have Its Day:
"Every Song will have you hanging on each word that Laura tenderly sings. Her vocals will soothe your soul, and the vertical lyrics will direct your attention to our King, Jesus. This is a completely worshipful album…The eternal Love of Jesus is beautifully expressed in these compelling songs that seep into your heart, soul and mind. This album soothes, moves and challenges listeners. Love Will Have Its Day is a profound listening experience." - New Release Tuesday (5/5 stars)
"Love Will Have Its Day, Laura Hackett Park's second full-length album with Forerunner Music, explores a broad range of music for personal reflection and worship…Hackett, aided by producers Brown Bannister and Ben Shive, is clearly unafraid to branch into new musical directions…" - Worship Leader Magazine
"Most of all, what is most winsome about Love Will Have Its Day is Park's ability to get into the issues of life, be it anger, human trafficking, chronic illness and so forth, and laying them down at the foot of the Cross. And this is what a worship album besotted by the Cross of Jesus Christ ought to be like." - Hallels.com
"This is a really enjoyable album-I really think this could be one of the albums of the year. Great songs, interesting music, and great lyrics that tell stories that are a pleasure to listen to. On top of all that, a vocalist who has such quality that if she sang a menu, I think I would still enjoy listening to it! This is a top top album from a top top artist." - Louder Than The Music (5/5 stars)
About Love Will Have Its Day
Street Date: 10/21/2014
CD UPC#: 8-21827-00006-2
SRP: $11.99 Digital Price: $9.99
About Laura Hackett Park
Growing up in the house of prayer, Laura was surrounded by music. Songwriting came naturally for her, and she wrote her first song at the age of eight. She later attended the Conservatory of Music and Dance at the University of Missouri-Kansas City to develop her songwriting skills and graduated with a degree in music theory. Laura now teaches voice classes at the Forerunner Music Academy, which is part of International House of Prayer University, and continues to lead worship at IHOPKC's 24-hour prayer room each week, which is streamed LIVE to over 175,000 people a month. Her motivation for music and songwriting comes from a desire to draw people back to God. Laura's songs and vocals have been featured on many different albums in the IHOPKC community. Her first full-length solo album released in the fall of 2009, followed by her single "I Put On Christ (The Battle Is Raging)," which gained recognition through the International House of Prayer's Onething young adult conferences. Visit Laura's website at www.laurahackett.com.
About Forerunner Music
Forerunner Music is the official record label of the International House of Prayer of Kansas City, MO, an evangelical missions organization centered on 24/7 worship and prayer. Having released more than 150 albums since its inception in 2001, the label has produced records for artists such as Misty Edwards, Laura Hackett, and Matt Gilman. Forerunner Music albums have reached as high as No. 9 on the Billboard charts and No. 1 on iTunes' Christian & Gospel charts. Visit forerunnermusic.com for more information.
About the International House of Prayer of Kansas City
The International House of Prayer of Kansas City (IHOPKC) is a 24/7 prayer ministry that has held worship-led prayer meetings non-stop for 15 years. Since 1999, bands of 10 or more singers and musicians have led an unending cycle of two-hour prayer-and-worship sets-all day and night-in the ministry's Global Prayer Room. The ministry streams this continual worship and prayer live on its website and is watched by tens of thousands of people each day from around the world.
IHOPKC includes a university (IHOPU) with ministry, music, media, and missions schools. The organization is committed to justice and compassion outreaches involving human trafficking, inner-city programs, and adoption. IHOPKC's vision is to work in relationship with the wider Body of Christ to serve the Great Commission, seeking to walk out the two great commandments: to love God and people. The International House of Prayer is an evangelical missions organization that has a growing community of about 4,000. Visit www.ihopkc.org for more information.
- ### -