SETH CONDREY RECORDS DIGITAL EP, WORSHIP SESSIONS VOL. 1, AVAILABLE TODAY
Project of Worship Favorites Taped in Costa Rica, Includes Four Accompanying Music Videos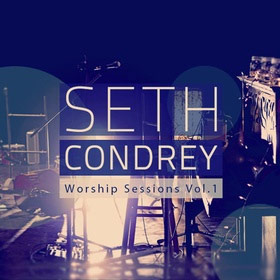 NEWS SOURCE: Savvy Media
October 27, 2014
(NASHVILLE, Tenn.) Oct. 27, 2014-Dove Award-winning North Point Music artist Seth Condrey releases a four-song digital EP, Worship Sessions Vol. 1, today. The project, taped on location in Costa Rica where Condrey is working with North Point strategic partner church Openhouse, features worship favorites as well as four accompanying music videos.
One of Atlanta-based North Point Community Church's primary worship leaders, Condrey moved to Costa Rica a year ago, motivated by his long-time interest in Latin American ministry. Worship Sessions Vol. 1 reflects both his love of worship and the Spanish-speaking people, boasting three powerful Spanish-language songs including "Speechless (No One Like You) (Sin Palabras)," "This is Amazing Grace (Gracia Sublime)," and "No One Higher (Nadie Es Más Grande)" in addition to "God of the Impossible."
Sonically, Worship Sessions Vol. 1 features a raw, stripped-down acoustic sound, recorded at the Costa Rica National Auditorium with the help of local worship leaders and musicians whom Condrey serves with weekly.
He comments, "This EP was an effort to capture songs that we sing at our church, Openhouse, here in Costa Rica. I wanted it to be a memory of what Jesus has done and is doing in our church and to let people in on the gratitude that we feel. We hope that everyone who hears these songs will connect with Him and worship Him with us."
Worship Sessions Vol. 1 is available for $5.99 wherever digital music is sold. Purchase of the full EP includes four live performance music videos filmed in-studio as well. For more information, visit northpointmusic.org, twitter.com/sethcondrey or facebook.com/sethcondreymusic.
About Seth Condrey
Seth Condrey first came into relationship with North Point Community Church as worship leader for its Spanish-language service, a role that evolved into leading weekly worship at one of North Point's six Atlanta-area churches. At the time, his resume boasted four projects, two of which were Spanish-language albums, including 2008 GMA Dove Award winner for Spanish Language Album of the Year, De Corazón a Corazón.
In 2012, Condrey recorded North Point Music's first Spanish-language album, North Point en Vivo con Seth Condrey, reflecting North Point's commitment to provide resources to churches globally and of Condrey's passion for the Spanish-speaking world. The following year, he released his first English language solo effort, Keeps on Changing, for the North Point Music label. For more information on Seth Condrey, visit facebook.com/sethcondreymusic or follow him on Twitter: @sethcondrey.
About North Point Music
In 2010, North Point Ministries launched North Point Music to bring local worship leaders, musicians and songwriters together to inspire a generation and influence the church. Led by best-selling author, communicator and pastor Andy Stanley, North Point Ministries comprises six Atlanta-area churches with more than 36,000 adults in attendance each Sunday. Outreach Magazine recently named North Point Ministries "the largest church in America."
In addition, the church has strategic partnerships with more than 28 churches domestically and internationally, and the ministry receives in excess of 4.2 million requests for broadcast content, including television, each month. For more information, visit: northpointmusic.com.
- ### -