"GOOD LITTLE GIANTS" NAMED WINNER OF CHRISTIAN FESTIVAL ASSOCIATION'S
2014 NATIONAL TALENT SEARCH COMPETITION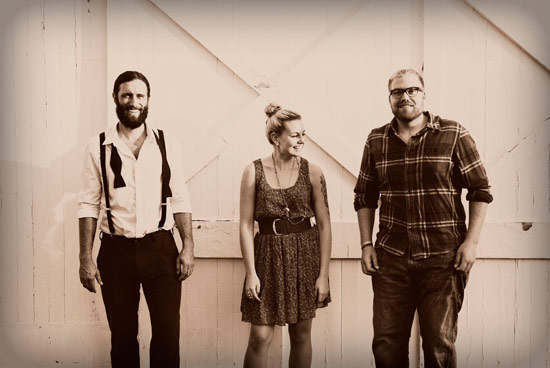 NEWS SOURCE: Christian Festival Association
November 5, 2014
November 5, 2014 - The Christian Festival Association (CFA), a group of the nation's largest Christian music festivals, announced today that Good Little Giants has been selected the winner of its 2014 CFA National Talent Search Competition. Good Little Giants had won the regional the talent search competition at Unity Christian Music Festival (Muskegon, MI) in August. They were then selected by a panel of judges from among a group of talented Christian artists who had also won regional competitions at 2014 CFA festivals from coast to coast. As a result of their overall victory, Good Little Giants will receive a full performance slot at all participating 2015 CFA events.
Good Little Giants is comprised of three accomplished musicians who each bring a unique style and experience to the band - Scott Phillips (vocals, guitar, banjo), Shane Maze (vocals, guitar, dobro, keys, mandolin, banjo) and Kira Spencer (vocals, hip-slapping). Their rich harmonies and deep musical production blend seamlessly as Scott, Shane and Kira tickle the listener's ear with their craft. They have a very engaging sound and Christ-centered message that resonates with audiences everywhere they play.
"We were absolutely delighted and honored to find out that we had been selected as the national winner from the hundreds of new artists that had entered the CFA's national competition," said Scott Phillips of Good Little Giants. "As a band, we strive to exercise our gifts to make excellent music that honors God and tells the truth about everyday life. We look forward to sharing His timeless truth with audiences around the country next summer at the CFA's 2015 events."
Good Little Giants' next great adventure will be a ministry tour in the Dominican Republic in early January 2015. The artist's website is www.goodlittlegiants.com.
"Choosing one winning artist among an incredible group of finalists was a daunting task for our panel of judges," said CFA president Kevin Newton. "Ultimately, they have chosen a wonderful new artist who has already demonstrated their ability to captivate their audience with a fresh new sound and heart for worship. Our 2015 festival goers are in for a real treat."
About the Christian Festival Association
The Christian Festival Association was formed in 2006 and is comprised of twenty eight of the nation's largest Christian music festivals united by a common goal: to bring glory of God. The group meets regularly via conference calls and at an annual meeting in Nashville to discuss matters such as talent development, spiritual content, event production, marketing, national sponsorship acquisition and other topics of common interest. The Association's website is www.christianfestivals.com.
Media Contact for Christian Festival Association Bob Thompson Executive Director Christian Festival Association www.christianfestivals.com
- ### -