GRAMMY®, STELLAR AND DOVE AWARD-WINNING GOSPEL SUPERSTAR FRED HAMMOND TO RELEASE HIGHLY-ANTICIPATED ALBUM I WILL TRUST, ON NOVEMBER 17, 2014
I WILL TRUST is Available Now for Pre-Order

New Music Video for "I Will Trust" Available Now on Vevo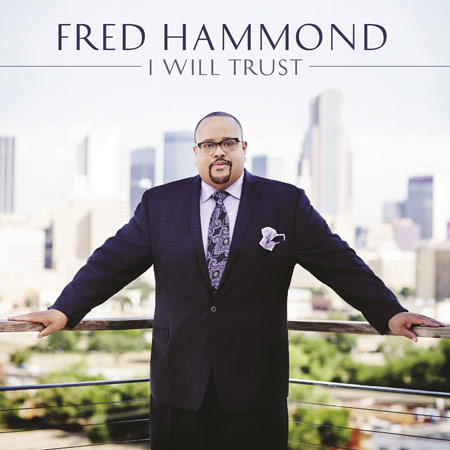 NEWS SOURCE: W&W PR
November 10, 2014
NEW YORK-November 10, 2014-Multiple Stellar, Dove, and Grammy® Award-winning gospel superstar Fred Hammond is releasing his highly-anticipated new album I WILL TRUST, on Monday, November 17, 2014. Hammond, who underwent an excruciating double knee surgery in January, pours his soul into this project and delivers his most intimate album to date. Featuring a strong mix of anointed ballads and foot-stomping praise, the 12-track offering is Hammond's personal and powerful declaration of faith and victory. I WILL TRUST is available now for pre-order on iTunes, Amazon and Google Play. Upon pre-order, fans will receive instant access to three stand-out tracks: "I Will Trust," "Festival of Praise," and "It's Only the Comforter."
Featuring the powerful single "I Will Trust," listeners turned out in droves for an early taste of Hammond's album on his recent hit fall tour, the Festival of Praise Tour, where he and tour-mate Donnie McClurkin performed in 30-plus cities within two months. Executive-produced by Hammond with his brother Raymond Hammond, Fred Hammond's prolific songwriting talents are out in full force on every track of I WILL TRUST. Hammond's ongoing journey to recovery takes flight in his robust vocals-stirring melodies to strengthen listeners in their faith, inspire deep reflection, and give praise.
Continuing on the road this month in support of the album, Fred Hammond will hit Dallas, Houston and Atlanta the week of release, with a special album-release listening event at Houston's Windsor Village United Methodist Church on the evening of November 17th, as well as an in-store album signing at Atlanta's LifeWay Christian Store on November 18th. Stay tuned as Hammond joins again with Donnie McClurkin, for more dates on the Festival of Praise Tour expected in 2015.
Click here to check out Fred Hammond's brand new music video for hit single, "I Will Trust" on Vevo.com
Catch Fred Hammond in Houston and Atlanta:
11/17 - Houston, TX - Fred Hammond I WILL TRUST album listening event
Windsor Village United Methodist Church - Doors Open 6:30 pm
6011 W. Orem Dr. - Houston, TX 77085
General Admission Free; $25 VIP
11/18 - Atlanta, GA - Fred Hammond I WILL TRUST album signing
Atlanta LifeWay Christian Store - 5:30 pm
441 Cleveland Ave. SW - Atlanta, GA 30315
Pre-Order I Will Trust and receive three tracks instantly:
iTunes
http://smarturl.it/IWillTrustLP-I
Amazon
http://smarturl.it/IWillTrustLP-A
Google Play
http://smarturl.it/IWillTrustLP-G
About Fred Hammond
For three amazing decades, singer/songwriter/producer/musician Fred Hammond has been a gospel music arbiter, consistently pushing the genre into new melodic territory. The Detroit native ascended from bass-playing sideman for The Winans; to founding member of the trendsetting sextet Commissioned; to creating the further renowned ensemble Radical for Christ, to becoming a highly influential solo artist and producer in his own right. Unforgettable songs such as "Blessed," No Weapon," "King of Glory," "Celebrate (He Lives)," "Let the Praise Begin" and more have lifted the spirits of millions both cross-culturally and cross-generationally. His 1998 release PAGES OF LIFE: CHAPTERS 1 & 2 is a double platinum-seller and his award wins over the years have recognized his excellence in all areas upfront (Best Male Vocalist, Best Album and Best Song) as well as behind the scenes (for songwriting and producing). Fred Hammond is the recipient of multiple Stellar and Dove Awards and received a GRAMMY® Award for Best Contemporary R&B Gospel Album for FREE TO WORSHIP.
For more information about Fred Hammond, please visit:
Website:
www.realfredhammond.com
www.rcainspiration.com
Facebook: Therealfredhammondfanpage
Twitter: @RealFredHammond
Instagram: @realfredh
ABOUT RCA Inspiration
RCA Inspiration (formerly Verity Gospel Music Group) is the #1 gospel label in the country that operates under Sony Music Entertainment. Voted Billboard's #1 "Gospel Songs Label" for the past 15 years, RCA Inspiration is the home of mega-gospel artists Donnie McClurkin, Richard Smallwood, Israel Houghton, Marvin Sapp, Le'Andria Johnson, Fred Hammond and many more.
- ### -