SONSHINE FESTIVAL ANNOUNCES NEW VENUE FOR 2015
The Upper Midwest's Premiere Christian Music Festival
Moves to Somerset Amphitheater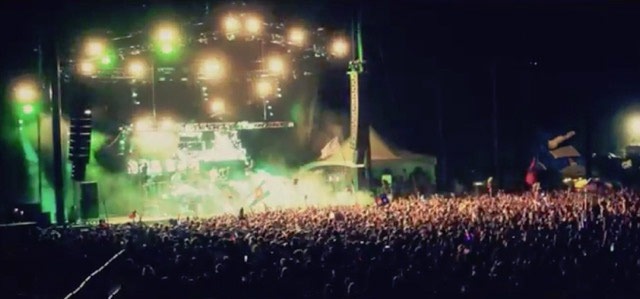 Sonshine Festival is moving to the Somerset Amphitheater for the 2015 season.
(Somerset Amphitheater photo)
NEWS SOURCE: McCain & Co. PR
November 14, 2014
NASHVILLE, Tenn. (November 14, 2014) - Creation Festivals has announced that Sonshine Festival will have a new home in 2015. The Upper Midwest's premiere Christian festival is making the move to the Somerset Amphitheater, located just outside the Twin Cities.
Creation Festivals took over the operation of the the much-loved annual festival in 2014, bringing Sonshine Festival into a larger family of festivals that also includes Creation Northeast, Creation Northwest and Creation Ichthus. All of these events share a similar vision, passion and mission to impact the current generation with a life-changing message of Jesus Christ.
Sonshine Festival was started with a mission to call people to be life-long followers of Jesus, whether they are just embarking on their journey, or have been faithfully following for years.
"Willmar has been an amazing home and we are thankful for the years of support," says Bob Poe, co-founder of Sonshine Festival and Executive Director of West Central MN Youth for Christ. "I am excited that Sonshine is now part of the Creation family of festivals and taking a huge step in building and expanding its mission, outreach and vision with this move to Somerset Amphitheater."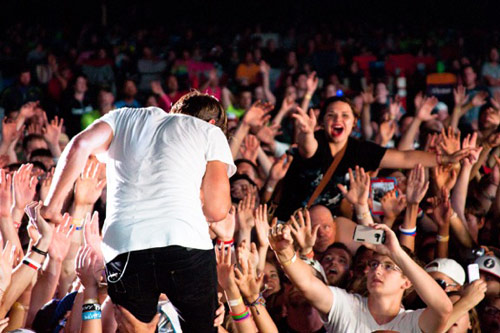 Switchfoot's Jon Foreman ventures out into the crowd during a performance at Sonshine Festival 2014. (Sonshine Festival photo)
"We are delighted to announce that Sonshine Festival is moving to the beautiful Somerset Amphitheater, a premiere venue in the Twin Cities area," says Dr. Harry Thomas, Jr., founder of Come Alive International and co-founder of the Creation Festivals. "Sonshine Festival has been a tradition in Minnesota and the surrounding states for 32 years. Sonshine has always offered an amazing opportunity for college students, families, church groups and friends to experience the best in Christian music and speakers in beautiful surroundings. Now, with the larger venue of the Somerset Amphitheater, Sonshine has room to grow, and it will only get better!"
"We could not be more excited to carry on Sonshine's 32 year legacy of worshiping our Savior as the body of Christ," says Troy Duhon, Partner in Creation Festivals and Executive Producer of the movie, God's Not Dead. "Somerset offers Sonshine a premium festival location to continue to evangelize the youth of the region."
A favorite Midwest music venue since the late 80's, the Somerset Amphitheater is located on the Apple River, just 35 minutes from the Twin Cities. For years it has served as a summer hub for music, camping and tubing for those from Minnesota, Wisconsin and beyond. The list of concerts and festivals held at Somerset Amphitheater (formerly Floatrite Amphitheatre) is endless--from all the Hard Rock shows in the 90's and 00's to Country, Blues, Folk/Bluegrass, and Classic Rock shows that date back twenty years.
Sonshine, now a three-day festival, will hold true to the amazing sense of community that festival attendees have enjoyed in the past. The picturesque site for this year's festival features a Tent City close to the activities where thousands will camp and fellowship, plenty of premier RV sites available to rent for those who would like the added comfort. Hot showers and the amenities of indoor plumbing will be accessible to all campers.
Four different stages will showcase internationally-known bands and speakers. Also coming back this year will be the vendor hall, activities and ministry for children, and a special VIP Youth Leader Lounge with artists and speaker meet & greets.
Bands and speakers for the 2015 event will be announced at sonshinefestival.com/tickets and on Facebook at facebook.com/SonshineFest.
Tickets for the 2015 Sonshine Festival are on sale now. To purchase tickets, visit sonshinefestival.com/tickets.
2015 tickets which have already been purchased will be valid at the new venue. For questions about tickets or the new venue, please call 800-327-6921 x206, or email adminsupport@creationfest.com.
- ### -