HarperCollins Christian Publishing Releases The Duck Commander Faith and Family Bible with Strong Press and Industry Support
Press Coverage Includes: Parade Magazine, In The Marketplace with Janet Parshall, American Bible's "Project Shift," American Family Radio, CBN 700 Club, Christian Post, WSM-AM, Daystar Television, Campus Crusade for Christ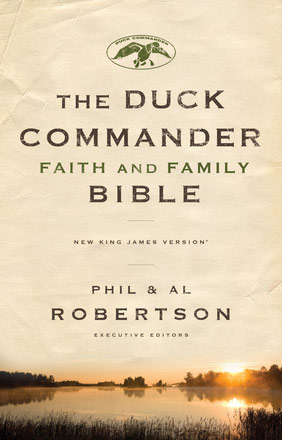 NEWS SOURCE: Bozeman Media
November 17, 2014
Nashville, TN (November 17, 2014) ----- The highly anticipated new project from Phil and Al Robertson, The Duck Commander Faith and Family Bible, has released with a very supportive response from the press, fans and the Christian industry. Released through Thomas Nelson, a division of HarperCollins Christian Publishing, fans are exclaiming; would make a great gift, Bible "Life Changers" are fantastic, a great way to study, I give this Bible 5 stars. The project focuses on the Robertsons' five core values: faith, family, fellowship, forgiveness, and freedom. The Bible is presented in the New King James Version and includes 30 life-changing testimonials, along with 125 Set Your Sights features from Phil and Al, who serve as Executive Editors on the project. The Duck Commander Faith and Family Bible is available at all online and retail outlets.
"Dad and I couldn't be more excited about the release of our new Bible, The Duck Commander Faith and Family Bible," says Al Robertson. "Between the two of us, we have more than 70 years of combined experience of studying and teaching God's Word. We bring you that experience, as well as the witnessing of thousands of life changing experiences in this new NKJV Bible. You will be encouraged and inspired to learn more about God's will for your life and hopefully share this transforming power with others you know. We pray for everyone that will pick up these words from the Almighty, alongside our teaching and testimony, and put them into practice.
The Duck Commander Faith and Family Bible has a wide range of media outlets enthusiastically providing coverage that includes; Parade Magazine (Nov. 9 Parade Picks), Moody Radio/In The Marketplace with Janet Parshall, WMUZ/Bob Dutko Show (Detroit, MI), CBA Retailers + Resources, Salem's Preaching Magazine, American Bible's "Project Shift," CBN 700 Club, American Family Radio, Campus Crusade for Christ (radio), Christian Post, Daystar Television, WSM-AM/Coffee with Cody, Phil Valentine Show, CNS.com, Salvation Army's "Young Salvationist," The Oklahoman, CNS.com, Good Day (Dallas), HM Magazine, Spirit Catholic Radio Network, among many others. Additional media coverage will be announced in the near future. Phil, "Miss Kay," Al and Lisa Robertson recently traveled to Dallas, TX for an in-store book signing at Walmart. The event was packed with fans, who began lining up two hours before the signing began in order to get personally autographed copies of The Duck Commander Faith and Family Bible.
The Bible was also enthusiastically received at the 45th Annual Dove Awards in October in Nashville, TN. Al and Lisa Robertson were presenters on the national show, as they co-presented with Jason Crabb for the Inspirational Movie of the Year category, with "God's Not Dead" being announced as the winner. Several copies of The Duck Commander Faith and Family Bible were available backstage for performers, presenters, nominees and other industry VIPS.
For more information about The Duck Commander Faith and Family Bible please visit online www.duckcommanderbible.com.
About Phil and Al Robertson
Phil and Al Robertson are from rural Louisiana and currently reside there, where hunting and fishing have always been a big part of their lives. Phil, the patriarch of the Robertson clan, taught school for several years before starting Duck Commander in 1973 with the infamous duck call and other duck-hunting merchandise. It was in the mid 1970's that Phil turned his life over to Christ and began sharing the message of the Bible. He remains an in-demand public speaker to hundreds of churches and organizations throughout the world. Phil and his wife, Kay, are the proud parents of four sons who are active with the Duck Commander brand.
Al Robertson is the oldest son and was raised as a Christian in the Robertson household. He helped to build the foundation of the Duck Commander business, before leaving in 1988 to serve in full-time ministry for over twenty-two years. In 2013, Al returned to Duck Commander and plays a vital role in the family's commitment of spreading the gospel throughout the world with their national ministry. Al and his wife, Lisa, have two married daughters and four grandchildren. He is probably the most easily recognized member of the Robertson family at this point, since he is the only beardless brother!
About Thomas Nelson
Thomas Nelson publishers is a world leading provider of Christian content and has been providing readers with quality inspirational product for more than 200 years. As part of HarperCollins Christian Publishing Inc., the publishing group provides multiple formats of award-winning Bibles, books, gift books, cookbooks, curriculum and digital content, with distribution of its products in more than 100 countries. Thomas Nelson is headquartered in Nashville, TN. For additional information visit www.thomasnelson.com.
- ### -