Worship Artist Jaime Jamgochian to Release New Holiday Single
"Twelve Days of Christmas (How I Want to Sing)"
Single Going for Adds at Christian Radio and Available on iTunes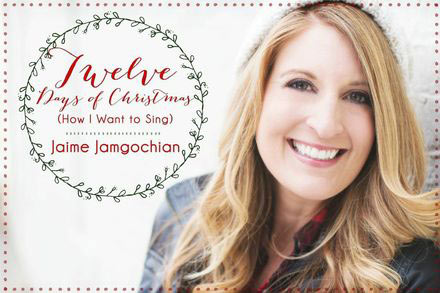 NEWS SOURCE: Bozeman Media
November 24, 2014
Nashville, TN (November 24, 2014) ---- Worship artist, Jaime Jamgochian, is bringing holiday cheer to fans around the world with her new single, "Twelve Days of Christmas (How I Want to Sing)." Co-written by Jamgochian and producer/Grammy nominated songwriter, Aaron Rice (Mandisa, TobyMac), the song carries the classic tune while the lyrics deliver a message of hope about our Savior. On the first day of Christmas oh how I wanna sing/of the Savior that set us free/On the second day of Christmas of oh how I wanna sing/of joy and peace/and the savior that set us free/On the 3rd day of Christmas oh how I wanna sing/of 3 wise men/joy and peace/and the Savior that set us free.
"Aaron and I were in a co-writing session and we thought it would be fun to write a Christmas song," explains Jamgochian. "We started talking about the holiday standard, 'The Twelve Days of Christmas,' and we wanted to change the lyrics so they would have meaning for us with the focus on Jesus."
"This song also has a special meaning to me because of my family Christmas at home in Boston, MA, where my extended family of 50+ people get together for a holiday party. At the end of the festivities, we gather and sing 'The Twelve Days of Christmas,' and break up into smaller groups to sing each section. This 25-year tradition is so much fun and means a lot to me, but honestly I've wondered about the lyrics…..a partridge in a pear tree?"
The single is going for adds at Christian radio and is being promoted by Chris Hauser Radio Promotions and Marketing. The song will also be available on iTunes. In support of the new single, Jamgochian will launch the Christmastime Tour that will also feature guest artist, Tyrus Morgan, and will be sponsored by Compassion International. The tour launches in North Carolina December 7th and concludes in Des Moines, IA, December 21st.
Jamgochain is currently working on a new independent album and new book, "Modest Is Hottest," with both set for release in 2015. For continued information and tour updates on Jamgochian please visit online www.jaimejam.com, www.facebook.com/jaimejamgochian, and www.twitter.com/jaimejamgochian
About Jaime Jamgochian
Jamgochian was raised in Reading, MA where she learned to play piano by ear at a young age, and her love of music led to a scholarship at Berklee School of Music. While at college, Jamgochian became a Christian, the first one in her family to become a believer, and in time her entire family has come to the Christian faith. After interning and working at The City Church in Seattle, WA as a worship leader, Jamgochian signed with Centricity Music and released her first national album, Reason To Live. The first single from the project, "Hear My Worship," remained No. 1 for twelve weeks on Billboard's Inspirational Singles Chart. Another album followed with Above The Noise, and Jamgochian's last single for the label, "The Stand," became her highest charting song at AC radio. As an independent artist, Jamgochian began expanding her Modest Is Hottest events for young girls, which has become a global ministry, as well as singing at national woman's conferences throughout the country. Jamgochian has remained an active touring artist for the last eight years sharing the stage with such high-profile acts as, Philips Craig and Dean, Mandisa, Point Of Grace, and Mark Shultz. Jamgochian just completed The Sass, Class & Compassion Tour with bestselling author, Mandy Hale. The inspirational "Girls Night Out" toured the country and concluded at Joel Olsteen's Lakewood Church in Houston, TX.
- ### -
For more info on Jaime Jamgochian visit the JFH Artists Database.