IRREGULAR4CHRIST MUSIC MINISTRY'S
DUSTY MARSHALL RELEASES
"RETURN OF THE WORDSMITH"
Available Now on iTunes & Other Top Digital Retail Sites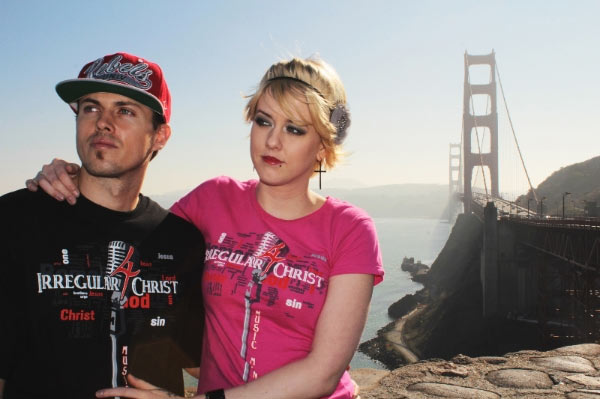 NEWS SOURCE: Gorilla PR
November 25, 2014
NASHVILLE, Tennessee (November 20, 2014) - After a year and a half on the road with the Irregular4Christ Music Ministry, Hip-Hop artist and ministry founder Dusty Marshall has released a brand new EP entitled Return of the Wordsmith (iTunes). The collection celebrates the joy found in victory and confronts the struggles associated with addiction using lyricism, storytelling and complex wordplay. The goal of the ministry is to connect with people on a personal level and expose the hope available through a personal relationship with Jesus Christ.
Engineered by Kwon Five-Nine of Guerilla Cross Studio, the 5-track EP covers a lot of ground. The track "Falling Off" is jam-packed with raw lyrics and exposes the realities of placing faith in things of this world rather than in the One who created all things. The track is rounded out by Krystal Marshall's angelic voice. The song "Kings and Queens" follows a couple along their life-long journey toward finding and maintaining true love. Other tracks deal with issues as diverse as the growing sense of isolation experienced by many as a result of the continuing encroachment of the digital age as well as remaining passionate about serving God. Every song but one from the EP employs samples from popular songs as well as special guest appearances.
The Las Vegas, Nevada-based ministry is dedicated to providing hope to the hopeless through the message of God's grace. The husband and wife duo of Dusty and Krystal Marshall combine music and art to reach those struggling with various forms of addiction. Having been delivered from the vices of drug addiction, both Dusty and Krystal are able to connect directly with those struggling with similar issues. Dusty's rapping skills combine with Krystal's musical talent as a singer and visual illustrator to create a unique performance-based presentation.
The ministry's tagline is "Giving hope to the hopelss by spreading testimonies of God's grace." According to the SAMHSA's National Survey on Drug Use and Health, 23.5 million people aged 12 years or older required treatment for an alcohol or illicit drug abuse problem in 2009. Comprising only four percent of the global population, Americans account for two-thirds of the illegal drug consumption worldwide. Make no mistake - addiction is an American epidemic. Dusty states, "the reason we started the ministry is because I personally know what it feels like to be hopelessly trapped by addiction and past regrets. God used my past problems to mold my future potential and gave me a passion to help others with their own hurts, habits, and hang-ups. My music is merely a tool for reaching people that need to know there is a way to overcome the issues they are facing." He concludes, "we use our musical and artistic gifts to speak about direct recovery through the Celebrate Recovery program - a Christ-centered 12 Step program." Irregular4Christ also runs a local chapter of Celebrate Recovery in Las Vegas.
In 2013, the award-winning music ministry visited thirteen states and over ninety locations including Creation Fest in Pennsylvania and Hope Fest in Prescott, Arizona. In 2014, the duo performed at the Elevate Music Festival, also in Prescott, Arizona. They have shared the stage with big name acts like Lecrae, Switchfoot, Family Force 5, Kutless, Chris Tomlin, Jeremy Camp and other prominent Christian artists.
- ### -