ABANDON KANSAS PARTNERS WITH BC MUSIC TO CROWD-FUND THIRD FULL-LENGTH ALBUM
Campaign runs through January 5, 2015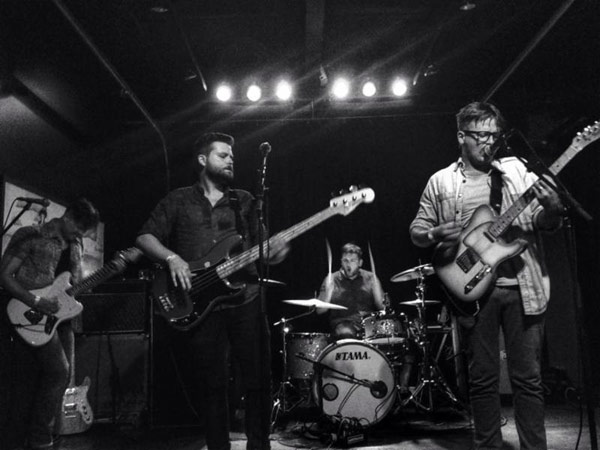 NEWS SOURCE: Fresno Media
December 1, 2014
WICHITA, KS - BC Music, a division of BadChristian, has partnered with Sunflower State rock group, Abandon Kansas, to launch a crowd-funding campaign for the band's upcoming third studio album, due out 2015. The campaign, which seeks to raise $15,000 through January 5, 2015, is live now at: http://igg.me/at/abandonkansas. Unique crowd-funding 'perks' allow fans to get involved in the project beyond just getting the music, including a mention in the album art, a selfie in a lyric video, exclusive interactive experiences, custom songwriting and more. The band will also be booking a 'living room tour' to support the album, offering fans the chance to host one of the shows at their house. Here, Abandon Kansas will hand deliver the new album to fans around the country a month before its official release.
"I'll be honest. I'm nervous about the idea of crowd-funding," said Abandon Kansas frontman, Jeremy Spring. "It makes me uncomfortable, but most of that is a pride thing. I've always wanted to put my head down and get it done myself. But the truth is, I can't. I can't do these songs justice alone. I can't make this album without your support."
"It is an absolute thrill to have the opportunity and challenge to help a band like this redesign their career and prove that bands can be more successful in our system than with a traditional label," commented BC Music co-founder, Matt Carter. "Their music is the real deal and their fans are legit. All we have to do is connect them efficiently."
Abandon Kansas is currently in the studio in Nashville, Tenn. with producers Dustin Burnett and J. Hall. And although Spring describes this record as "the beginning of something completely new for Abandon Kansas, a new chapter with new band members and a new team at BC Music," it's turning out to be the band's most melancholy and dark undertaking yet.
"I'm not trying to make a dark record, I am just trying to make something real, and the reality is that I'm in a dark place in my life," Spring admitted. "I'm struggling with defeat and depression and anxiety and some identity and addiction issues. The goal with this record is to live in that brooding tension, instead of trying to offer answers, neatly gift wrapped in each song. I'm just going to let it hurt for a while."
What began as an inside joke (a band in Kansas) over eight years ago, has resulted in two full-length albums and three EPs. Abandon Kansas released its first independent album in 2007, You Build A Wall, I'll Build A Ladder, playing over 250 shows a year before signing a deal with Gotee Records in 2009. While with Gotee, the band released the 'We're All Going Somewhere' EP and a second full-length in 2011, Ad Astra Per Aspera. The group has toured with bands like House of Heroes, The Classic Crime and Showbread while playing over 1,500 headlining shows in the U.S.
"It's been an unforgettable journey far," added Spring. "I'm honored people would invest in the future of this new album. I've never seen AK as solely mine, and I've always understood the important role a team plays in making something great. There are some encouraging new faces on board now, who support and believe in this record and what AK has to say."
Stay tuned for more information on Abandon Kansas.
Abandon Kansas online...
https://www.facebook.com/abandonkansas
https://twitter.com/abandonkansas
https://www.youtube.com/user/AbandonKansas
BadChristian online...
http://badchristian.com/
https://twitter.com/xbadchristianx
https://www.facebook.com/badchristians
http://instagram.com/xbadchristianx
http://www.youtube.com/channel/UC8M83JJGpU5x8lUwae7yZow?feature=watch
About BadChristian...
BadChristian was formed in 2013 by Matt Carter, Toby Morrell and Joey Svendsen. Carter and Morrell are worship leaders and founders of Emery, a successful touring rock band that has sold over 500,000 records and toured in 49 states. The multi-dimensional BADCHRISTIAN.com features the 'BadChristian Podcast' which recently reached as high as #3 on 'Religion & Spirituality' chart on iTunes with over 1 million total downloads, a blog with over 100,000 monthly page views, and a growing record label, BC Music.
- ### -
For more info on Abandon Kansas visit the JFH Artists Database.