Mike Farris Receives Grammy® Nomination for
Shine For All The People
Nomination in New Best Roots Gospel Album Category is Farris' First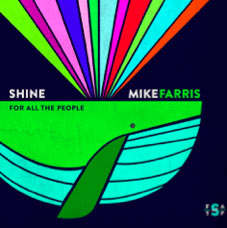 NEWS SOURCE: Merge PR
December 9, 2014
Nashville, Tenn. (December 9, 2014) — An independent recording artist on the Compass Records label, Mike Farris is celebrating his first-ever Grammy® nomination for Best Roots Gospel Album of the Year for his newest studio album, Shine For All the People.
Released to rave reviews in September, Shine For All the People is Farris' full-length studio follow-up to Salvation in Lights, for which the artist won an Americana Music Award for New/Emerging Artist of the Year in 2008. The Gospel Music Association's Dove Award for Traditional Gospel Album of the Year followed in 2010 for Farris' live performance album, Shout Live!
The critically-acclaimed artist was recently featured on the PBS Special "Austin City Limits Celebrates 40 Years" and in Rolling Stone as one of the "20 Best Things We Saw at Americana Music Festival." Shine For All the People is currently #14 on the Americana Music chart.
"I am so very proud to be considered for a Grammy, I truly am," Farris says of the nomination. "It's a honor I will cherish forever. My greatest professional reward, though, comes from sharing my music, my story, and my message with anybody who cares to hear. The mere hope that it may make a difference somewhere, somehow, is more than enough for me. Let's all enjoy the ride! This one's for all the freaks and dreamers!"
USA Today named Farris' nomination as one of the 'hidden gems' among this year's Grammy nominees. Shine For All The People was named one of the Top Albums of 2014 by PopMatters, with "Mercy Now" ranking as one of the Top Five Songs of Year. The winners for the 2015 Grammy Awards will be announced live on Sunday, February 8 from the Staples Center in Los Angeles and will air on CBS at 7pm CT/8pm ET.
About Mike Farris: A veteran singer songwriter who originally fronted 90s southern rock band, Screamin' Cheetah Wheelies, followed by a stint with Stevie Ray Vaughn's Double Trouble, Mike Farris' live solo performances across the country—including Bonnaroo, SxSW, Austin City Limits Festival, the Rock And Roll Hall of Fame's 16th Annual American Music Masters concert and TEDx Nashville—have left music novices, fans and seasoned artists alike mesmerized by his fusion of traditional gospel, 70s Stax soul and southern blues. One of the most powerful voices of his generation, Farris' unbridled interpretation of long-forgotten spirituals and joyful originals have impacted audiences around the world with a contagious message of mercy and hope.
- ### -
For more info on Steven Curtis Chapman visit the JFH Artists Database.