Passion Founder Louie Giglio's Advent Devotional
"Waiting Here For You: An Advent Journey of Hope"
Available Now
Giglio to appear on Fox & Friends tomorrow

Giglio expresses hope that Advent can "help people struggling during the holidays" in interview with TIME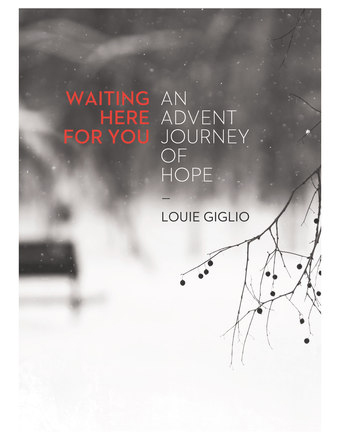 NEWS SOURCE: The M Collective
December 9, 2014
Nashville, Tenn. (December 9, 2014) - Founder of the Passion Movement and Passion City Church Pastor and Visionary Architect Louie Giglio hopes that Advent can "help people struggling during the holidays" with his new devotional and resource - "Waiting Here For You: An Advent Journey of Hope" (Passion Publishing) - available now.
In full interviews with TIME and Dr. James Dobson's Family Talk, Giglio talked about how Advent can "offer a new encouragement" and that he wishes "people will find the hope that Advent offers." Speaking with Family Life Network, Giglio described how the book is "not a feel good story, but one to get you through the toughest of days, including cancer during the holidays, which we've experienced as a family." Giglio was also hopeful that readers will rediscover some "simple but powerful truths" about Advent and "encouragement for their souls as anticipation leads toward celebration" in conversations with BeliefNet and Keep The Faith Radio.
Tomorrow, December 10, Giglio will appear on the highest-rated cable morning show FOX & Friends to talk about "Waiting Here For You: An Advent Journey of Hope." Check your local listings for broadcast times.
"With the current season's mad dash of tinsel, toys and consumerism, a perfect storm of anxiety is oftentimes created that can easily cause us to miss God's voice," says Giglio. "The season of Advent is just the opposite, and "Waiting Here for You" aims to be a devotional guide filled with hope for everyone who is waiting: waiting on a solution, a diagnosis, a relationship, a breakthrough, a rescue, etc."
"Waiting Here For You" offers passages of Scripture, meditations, words of encouragements and prayers encompassing the mindset of "waiting" during Advent season. The devotional is available at key book retailers everywhere and passionresources.com.
About Louie Giglio:
A passionate communicator and leader, Louie Giglio is the Visionary Architect and Director of the Passion Movement, which includes the collegiate gatherings of Passion Conferences, Atlanta-based Passion City Church, Capitol Christian Music Group partner sixstepsrecords, and most recently Passion Publishing. The author of "The Air I Breathe" and "I Am Not But I Know I AM," Louie is widely known for the Passion Talk Series DVD messages Indescribable and How Great Is Our God. As a communicator, Louie speaks at events throughout the U.S. and around the globe. A native of Atlanta and graduate of Georgia State University, Louie has done post-graduate work at Baylor University and holds a Masters Degree from Southwestern Seminary.
###