SHOW HOPE APPOINTS MIKE HAMILTON AS NEW EXECUTIVE DIRECTOR
Ministry Offers Gifts Of Hope Program This Holiday Season
NEWS SOURCE: Merge PR
December 9, 2014
Franklin, Tenn - 9 December 2014 - Show Hope™ has appointed Mike Hamilton as their new Executive Director, effective December 1. Hamilton is replacing longtime staff member Scott Hasenbalg who has led Show Hope since its inception. Show Hope, founded in 2003 by multi-award winning Steven Curtis Chapman and his wife Mary Beth, a New York Times' best-selling author, is a nonprofit organization that helps restore the hope of a family to orphans in distress.
Prior to joining the Show Hope team, Mike Hamilton served as the President of Engagement with Blood:Water Mission. A man of deep faith, Hamilton has extensive experience in leadership and development, serving 26 years in intercollegiate athletics at Clemson University, Wake Forest University and the University of Tennessee. He served at the University of Tennessee for nearly 20 years, eight as Athletic Director. Hamilton also served on the board for Show Hope and Blood:Water Mission, among other local, regional and national nonprofits. While in Knoxville, he chaired the Knoxville Chamber Partnership and the United Way. He was named National Fundraiser of the Year in college athletics in 1998, has been named by Business TN as a member of the "Power 100," and has been awarded numerous honors for his work with youth and children, including being named on the UN Foundation's 2014 list of 10 Fathers Creating a Better World for Girls and Women.
"It is exciting to SEE this next season beginning with Mike Hamilton as our Executive Director," shares Mary Beth Chapman, President, Show Hope. "I am confident that with his passion for Show Hope and expertise in development and leadership, he will grow us into all that God has for us to be."
Steven Curtis Chapman, Vice President of the ministry, adds, "From the first steps of the Show Hope journey, God has amazed us with His provision of wise, Godly and gifted people. Scott has led us to the place where we are today, and Mike has walked alongside us as an adoptive dad and board member. He brings not only a great passion for the purposes and mission of Show Hope but incredible gifts, strengths and experience to lead us."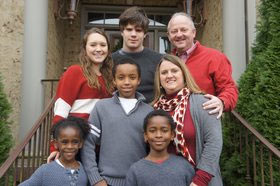 Pictured here is Hamilton, his wife, Beth, and their five children through adoption, three of whom are from Ethiopia. Their youngest daughter is named Kalu, meaning "get the word out" and that's exactly what Hamilton has been doing as it pertains to the orphan crisis since 2009. At Show Hope, he will continue to use his gifts to bring hope to the millions of orphans worldwide who need someone to "get the word out" on their behalf.
"I'm excited to join the Show Hope team," Hamilton shares. "Having been a donor, advocate and board member over the last several years, I strongly believe in the mission God has called for this organization and have been moved by the positive outcomes of the work and how it has impacted thousands of lives. I thank Scott for his continued friendship and the way he has served so gracefully in establishing a strong foundation for continued growth."
Former executive director Scott Hasenbalg is moving into the area of social entrepreneurism. For over 12 years Hasenbalg stewarded the ministry of Show Hope and faithfully served the Board of Directors, the Show Hope staff, and the Show Hope family with Godly leadership. Hasenbalg and his wife Kerry have four children.
"It has been an honor and a joy for Kerry and I to serve through the work of Show Hope," Hasenbalg states. "I am thrilled to be handing the baton of leadership to Mike Hamilton, knowing that he has what it takes to successfully usher the ministry into its next chapter."
GIFTS OF HOPE: Are you struggling with what to buy for everyone on your Christmas list? Are you wanting to do something more for those you love this season? During this time of giving, Show Hope wants to make it easy for you to cross off everyone on your gift list by giving the gift of hope! With their Gifts of Hope program, you can help give hope to orphans in need and for waiting families with a donation in someone's name. From gifts as low as $12, you can donate towards helping a forever family bring an orphan home, to the medical care needed for special needs orphans at Show Hope's Special Care Centers in China, or to their most urgently needed fund. This Christmas, you truly can help transform the life of an orphan! For more information, please visit the Gifts of Hope page here.
ABOUT SHOW HOPE: Since its inception, Show Hope has helped provide forever homes through Adoption Aid grants for more than 4,500 orphans from 50+ countries, including the U.S. In addition, more than 1,600 orphans with special needs have received critically needed medical care through Show Hope's Special Care Centers, giving them a hope for a family and a future. Through numerous initiatives designed to engage individuals, students, families, and communities, Show Hope is mobilizing a movement to care for the world's children who need it most.
Through Adoption Aid grants and their four active Special Care Centers, Show Hope addresses barriers to adoption - most notably the high financial burden of adoption and the unmet medical care for orphans with special needs - that prevent orphans from coming home to their forever families.
Show Hope is continuously developing a variety of programs to mobilize the church body to get involved and to help transform the life of an orphan. From their Student Initatives program (which includes the Red Bus Project for college students and The Movement for high schoolers), to their short-term trips for teens and adults, their Advocates program and the monthly sponsorship program, there are so many ways to get involved in the movement to care for orphans.
To find out more information, please visit ShowHope.org.
- ### -
For more info on Steven Curtis Chapman visit the JFH Artists Database.