CHERI KEAGGY SHARES STORIES AND SONGS
WITH NASHVILLE RESCUE MISSION
Singer/Songwriter Takes Time Away From Kickstarter Campaign
To Minister to Nashville's Homeless Women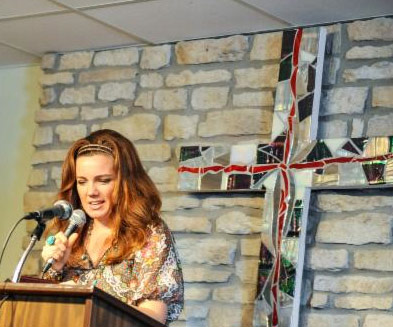 Cheri Keaggy shares stories and songs with the women at the Nashville Rescue Mission. The Kickstarter campaign for Keaggy's ninth CD, No Longer My Own, will run through Thursday, December 18, 2014 at 7:00 p.m. CST. (Nashville Rescue Mission photo)
NEWS SOURCE: McCain & Co. PR
December 10, 2014
NASHVILLE, Tenn. (December 10, 2014) - Dove Award-winning singer/songwriter Cheri Keaggy recently visited the Nashville Rescue Mission to share stories and songs with the homeless women served by the organization.
"This is the second time I've ministered in the women's facility," says Keaggy. "They're not that different from me, really. They're hungry for hope and eager to receive encouragement from the Lord and each other. It's been a privilege to see first hand the great work God is doing through the Mission. And I will definitely be back."
Keaggy is currently raising funds for her ninth album, No Longer My Own, through the innovative crowd-sourcing website, Kickstarter. Keaggy is no stranger to Kickstarter, having employed it to fund her 2012 release, So I Can Tell.
Keaggy, who is both humbled and excited by the number of doors that opened for ministry through concerts, church services, women's events, TV appearances, interviews, and radio airplay as a direct result of So I Can Tell, says the story is far from over. With a quiver full of new songs that are burning in her soul, Keaggy prays No Longer My Own will inspire and embolden fellow saints to live more fearlessly for Christ.
Using her piano as a pulpit from which to preach the Gospel, Keaggy has already spent considerable time in the studio with her uncle, Gospel Music Hall of Famer and guitar legend Phil Keaggy, prepping new songs for the project. Listeners can look forward to such vertically oriented songs of adoration as "Breathing Your Air," prayerful petitions like "Jesus, One and Only," thankful exultations like "No Longer My Own," and pensive intercessions like "Overcome."
Fans can help Keaggy produce No Longer My Own by backing her Kickstarter campaign, which launched November 17, with a pledge of as little as $1. The project will only be funded if at least $25,000 is pledged by Thursday, December 18, 2014 at 7:00 p.m. CST.
Keaggy is offering backers a wide assortment of perks, ranging from digital downloads of the completed project to autographed collector's posters to a free Cheri Keaggy concert and more. Pledges to Keaggy's No Longer My Own Kickstarter campaign can be made at kickstarter.com/projects/cherikeaggy/new-music-from-cheri-keaggy-no-longer-my-own.
About Cheri Keaggy:
Cheri Keaggy began her career as a worship leader at a small church in Southern California before recording her debut album on Sparrow Records, Child of the Father, which was honored with a Dove Award nomination for New Artist of the Year. Keaggy has gone on to record eight additional albums, resulting in nine No. 1 songs, three Dove Award nominations and a Dove Award win. After more than two decades in music, her ministry has expanded to include speaking engagements as well as music.
For more information about Keaggy and No Longer My Own, visit cherikeaggy.com. Like Keaggy on Facebook (facebook.com/CheriKeaggy) or follow her on Twitter (@cherikeaggy).
For booking inquiries, contact New Hope Management (newhopemanagement.com): Michael Lederer at michael@newhopemanagement.com / 972-862-6160 or in Nashville at 615-818-0710.
About Kickstarter:
Hundreds of individuals have raised capital through the Kickstarter business model, including Christian musicians Shaun Groves, John Schlitt and Cheri Keaggy. The movie adaptation of Donald Miller's Blue Like Jazz received $345,992 (276% of its original goal) from more than 4,495 donors through Kickstarter to make it one of the largest crowd-funded films in history, according to Paste Magazine and Kickstarter's website. For more information about Kickstarter, visit kickstarter.com.
- ### -