Emerging Rock Duo Clemency Releasing New EP with a
Video Series Telling a Love Story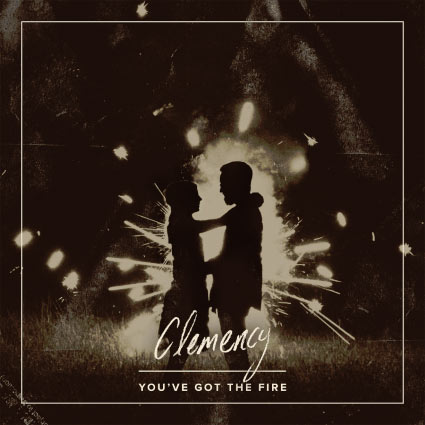 NEWS SOURCE: Black Panda PR
December 15, 2014
For Immediate Release - Nashville, TN - December 15, 2014 - Indie rock duo Clemency explores LOVE and MUSIC as universal concepts on their new six song EP, You've Got the Fire; out 2-10-15, with a corresponding six videos that tell a love story inspired by equal parts 80's pop culture and redefining millennial rock sensibilities. They will stream the series of six exclusively on Roxwel.com beginning today with the video for their first single "Color Hit the Canvas."
Clemency is Jason and Paul Watkins; two blue-blooded brothers from the red state of Oklahoma. They directed the video series along with their friend Joey Williams.
The Watkins' grew up in a musical family, sang in choirs, took piano lessons and began playing music together in high school. Paul picked up the bass and Jason began writing lyrics in response: a process that hasn't changed much since then. They started Clemency right after, toured around the entire state, and eventually moved to Nashville to start their careers. In Nashville the Watkins' were introduced to Grammy award-nominated producer Brent Milligan who worked with them on their debut record, Vapors (2008) and their 2012 EP My Heart Is the Eastern Horizon.
Clemency moved beyond the traditional listening experience and developed a concept video around each song to promote My Heart Is the Eastern Horizon. The videos allowed fans to immerse themselves in the stories being told in the songs. The title track from My Heart is the Eastern Horizon became a Top 10 Amazon MP3 single, a "New & Noteworthy" iTunes feature, as well as an "Artists on the Rise" Amazon feature. Soon after releasing My Heart is the Eastern Horizon, Clemency started writing You've Got the Fire.
Spiritually, questions about love kept showing up in the recording process, so they decided to tell a love story through these six videos that coincide with each song on the record. According to the duo, You've Got the Fire draws visual inspiration as well as character and plot archetypes from films like Spielberg's E.T. The Extraterrestrial, The Goonies, The Karate Kid, Beasts of the Southern Wild and Drive.
You've Got the Fire is now available for pre-sale with an instant download of the song "Runaways" here. My Heart Is The Eastern Horizon along with two new as-yet-unreleased remixes of current and new tracks are also available via Noisetrade. You've Got the Fire releases worldwide beginning February 10, 2015.
Connect With Clemency:
Official Website
Facebook

- ### -