KAREN JENSEN SALISBURY RELEASES
HOW TO MAKE THE RIGHT DECISION EVERY TIME TODAY
Popular Charsima House Writer, Speaker, and Bible Teacher to Appear on Cornerstone TV's Real Life Thursday to Discuss New Book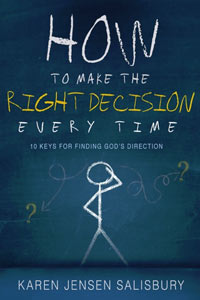 NEWS SOURCE: McCain & Co. PR
January 6, 2015
NASHVILLE, Tenn. (January 6, 2014) - Author, Bible teacher and speaker Karen Jensen Salisbury is releasing her new book, How To Make The Right Decision Every Time: 10 Keys for Finding God's Direction, today from Charisma House. In the new book, Jensen Salisbury spells out action steps for getting God's direction when making decisions, both large and small.
Jensen Salisbury will appear on a series of television interviews to discuss her new book, starting with her appearance this Thursday on Cornerstone TV's Real Life at 9:00 a.m., 1:00 p.m. and 8:00 p.m. EST, as well as 1:00 a.m. on Friday. To view Jensen Salisbury's appearance on Real Life, visit ctvn.org/watch-live.
Upcoming appearances will also include several additional interviews on Cornerstone TV, as well as appearances on LeSea TV's popular flagship show, The Harvest Show next Monday and on CBN's Turning Point later in January.
The new book follows Jensen Salisbury's debut book, Why God Why? What To Do When Life Doesn't Make Sense, written to offer hope and guidance during times when life is unexplainable. Why God Why? earned a spot on Parable's Top 50 list of best-selling books, nestled between Battlefield of the Mind by Joyce Meyer and James: Mercy Triumphs by Beth Moore.
"Why God Why was a manual for getting past the pain. My new book is a manual for making decisions," says Jensen Salisbury. "Everywhere I go, people are saying 'What does God want me to do?' Some people say, 'If God would just tell me, I would do it.' How To Make The Right Decision Every Time is a handbook, offering a combination of spiritual and practical tips. There is a plan, so get in it!"
In How To Make The Right Decision Every Time, Jensen Salisbury outlines ten steps to finding God's plan, including the foundational key of determining to be led by God and nothing else.
"The first key is the most important," Jensen Salisbury says. "You have to decide that you are going to make a decision based on what God says and not based on anything else--not on money or pressure or feelings. Those things are not reliable guides."
Subsequent chapters include learning to recognize God's voice, watching what you say, doing what Jesus did, tapping into God's Power, and feeding your faith and starving your doubt. Jensen Salisbury also weaves stories throughout the book of people who have sought God's plan for their lives, as well as for specific situations.
How To Make The Right Decision Every Time is available at major retailers, including Barnes & Noble, Books-A-Million and Amazon.
For more information about How To Make The Best Decision Every Time and Jensen Salisbury, visit karenjensensalisbury.org.
About Karen Jensen Salisbury:
Karen Jensen Salisbury has been an instructor at RHEMA Bible Training College in Broken Arrow, Okla., where she also served as the editor and principal writer of the Connections alumni magazine. A professional writer for more than 30 years, she has ghost-written for authors such as Kenneth E. Hagin, Kenneth W. Hagin, Richard and Lindsay Roberts, and Kate McVeigh. How To Make The Right Decision Every Time: 10 Keys For Finding God's Direction is Jensen Salisbury's second Charisma House release. Her debut book, Why God Why? What To Do When Life Doesn't Make Sense, was released in 2013.
Jensen Salisbury's first book discussed her experience of becoming a single mother when her first husband, Brent Jensen, died unexpectedly in 1997. Prior to his death, the two traveled full time as itinerant ministers and also pioneered two churches in the Northwest. After Brent died, Jensen Salisbury became senior pastor at their church in Boise, Idaho, while also parenting their sons, Josh and Ryan.
Jensen Salisbury conducts parenting seminars and has produced numerous parenting materials, including DVDs, CDs, a devotional and a workbook. She also has produced numerous CDs on various topics such as God's Love, Forgiveness, and Getting God's Direction For Your Life.
Jensen Salisbury remarried in March 2014 after 17 years as a widow. She and her husband, Bob Salisbury, live in Minnesota.
For more information about Jensen Salisbury, visit karenjensensalisbury.org.
About Charisma House:
Charisma House, the book division of Charisma Media, empowers people through Spirit inspired resources. To active Spirit-filled Christians who are passionate about God, Charisma House is the leading publisher of diversified Christian resources that motivate people to fulfill God's purpose, which is greater than themselves. For over twenty-one years, Charisma House has published books that challenge, encourage, teach, and equip Christians, including twelve New York Times best sellers. Charisma House authors include dynamic Christian media personalities, such as best-selling authors Jonathan Cahn, Joyce Meyer, John Hagee, Jentezen Franklin and a host of others.
The publishing company's book imprints include Charisma House, Siloam, Christian Life, Frontline, Excel, Realms, Creation House and Casa Creación.
For more information about Charisma House, visit charismahouse.com.
- ### -