WINTER JAM'S POWERFUL PLATFORM PROPELS
FAITH-BASED FILM AND TELEVISION RELEASES
NEWS SOURCE: Turning Point PR
January 21, 2015
NASHVILLE, Tenn.—In the midst of its 47-city run, which has already seen multiple sellouts to date this year—NewSong's blockbuster Winter Jam Tour Spectacular continues to provide a powerful platform for the Gospel message in major arenas around the country. In addition to showcasing 10 of Christian music's top artists, the tour is helping spread the word about two major faith-based film and television productions slated for upcoming release.
Do You Believe? arrives in theatres March 20 from Pure Flix, creators of last year's big-screen hit, God's Not Dead, which was promoted during Winter Jam 2014. Starring Academy Award®-winner Mira Sorvino, Sean Astin, Cybill Shepherd and Lee Majors, among others, the film depicts the lives of a dozen different souls—all moving in different directions, all longing for something more. As their lives unexpectedly intersect, they each are about to discover there is power in the Cross of Christ…even if they don't believe it. Yet.
"There's no question the momentum we generated from our sponsorship at Winter Jam created a massive awareness for our movie," said Michael Scott, producer, God's Not Dead and partner, Pure Flix.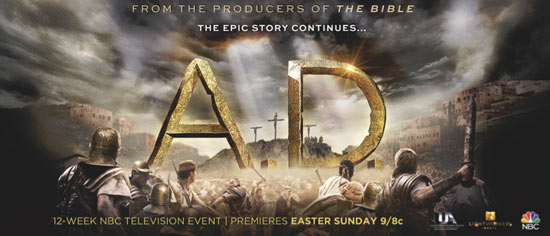 This year Winter Jam is also spotlighting NBC's upcoming "A.D. The Bible Continues," a landmark television event from the renowned producing team of Roma Downey and Mark Burnett. Downey and Burnett will make appearances at multiple tour dates, including the Winter Jam Dome Spectacular in Atlanta (Burnett only), as well as shows in Houston, Oklahoma City, and Ft. Worth, Texas, among others.
Continuing where History Channel's hit mini-series "The Bible" left off, "A.D. The Bible Continues" starts with the Crucifixion and the Resurrection, telling its story through the eyes of the Apostles, Pilate, Caiaphas, the Jewish Zealots and the Herod family. With the Book of Acts and Paul's letters as its foundation, the series chronicles what would become the most powerful global movement in history—the epic rise of the early Church. The 12-week Television event premieres Easter Sunday, April 5th on NBC.
The Winter Jam 2015 Tour Spectacular kicked-off January 2 in Charleston, West Virginia, and continues through March. Featuring headliners Skillet, along with Jeremy Camp, Francesca Battistelli, Building 429, NewSong, for King & Country, Family Force 5 and evangelist Tony Nolan, the Pre-Jam Party includes Blanca, About A Mile and VERIDIA.
Promoted by Premier Productions and presented by Holt International, Winter Jam Tour Spectacular sponsors include the University of Mobile; Teen Missions International; Pepsi; TheOverflow.com; Camp Electric; PREMIER Vacations & Events; Xtreme Conferences; Texas TransEastern; and Wayne E. Bailey Produce, in addition to Pure Flix's Do You Believe? and NBC's "A.D. The Bible Continues."
Created and hosted by GRAMMY®-nominated NewSong, Winter Jam exploded from a single show in 1995 to one of the music industry's biggest tours today. For four consecutive years, Winter Jam has ranked as Pollstar's #1 tour in the world for the first quarter, based on ticket sales.
For further information, visit jamtour.com or turningpointpr.com.
- ### -
For more info on NewSong visit the JFH Artists Database.