Jacob's Well Records Signs North Carolina-Based Waiting Hill,
Prepares For National Release of Group's Debut EP, The Long Road Home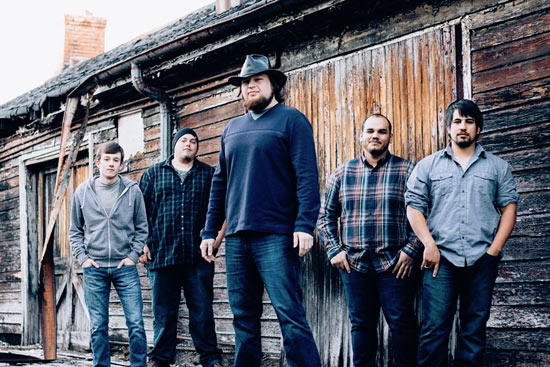 NEWS SOURCE: Gospel PR
February 4, 2015
Jacob's Well Records announces the signing of Charlotte, North Carolina-based Waiting Hill. The up-and-coming band has appeared on Atlanta Live, WATC TV-57's nightly live television program showcasing local ministries, musicians, civic leaders and more. The program is broadcast to millions of homes in the Atlanta metro area. The band has also been invited to play at Joshua Fest taking place in Quincy, California in September of 2015. With new tour dates being added weekly, 2015 is expected to be a breakout year for the band.
Founded by singer Mark Chambers, lead guitarist Chris Davis, and drummer Jon Keener, the group emerged from the worship team at a local church in the tiny town of Iron Station, North Carolina. The roster was later rounded out with bassist Wesley Wilson and rhythm guitarist Todd Church.
News spread fast as the band began to branch out to other churches and beyond, and the quintet has continued to gain momentum over time. The vision for the band is to move beyond the walls of the church and take their eternal message out unto the world. The band is comfortable performing at churches as well as the local bar and is received well at both types of venues. Rhythm Guitarist Todd Church states "our music is not just aimed at the church. We seek to reach people who don't necessarily go to church or won't have anything to do with it. Broken people are found everywhere, and everyone needs to hear the hopeful message that we embrace. God hasn't called us to just sit still in the safety of our comfort zones." Lead guitarist Chris Davis adds "we want people to know that no matter what happens in this crazy life, everything will be alright."
With soaring guitar leads, catchy melodies and the occasional harmonica solo, Waiting Hill has been captivating crowds all over the country. Lead singer and harmonica player Mark Chambers is often compared stylistically to singer Rob Thomas from Matchbox 20. The band embraces every opportunity to play live and draws audiences in with stories of the ups and downs associated with striving to live a content, meaningful life in today's chaotic world. Every lyric comes to life through the soaring music, invoking a unique bond between the band and the listener.
On the tour front, the band continues to perform at various venues across the South East and has booked shows at a series of minor league baseball events where thousands will be in attendance. They will also embark on a more intimate "Living Room Tour" for Spring/Summer 2015 in order to share a more personal experience with their growing fan base.
Originally released in their local area as a five song EP, The Long Road Home has been trimmed down to three tracks for the national release due to the departure of one of the members prior to the band's signing. The release of the EP on February 24, 2015 is just a precursor for what is yet to come. In the midst of everything they have lined up for 2015, Waiting Hill is also completing the recording process for their first full-length album which is expected to be released on Jacob's Well Records later this summer or early fall.
Additional information on Waiting Hill can be found at:
Website: http://www.waitinghillmusic.com
Facebook: https://www.facebook.com/waitinghill
Twitter: https://www.twitter.com/waitinghill
YouTube: http://www.youtube.com/waitinghillmusic
Instagram: http://www.instagram.com/waitinghill
About Jacob's Well Records:
Nashville, Tennessee-based Jacob's Well Records is an independent Contemporary Christian record label. For more information, please visit www.jacobswellrecords.com.
- ### -
For more info on KB visit the JFH Artists Database.