MIKE FARRIS' SHINE FOR ALL THE PEOPLE
GRABS GRAMMY FOR BEST ROOTS GOSPEL ALBUM
Newly added Grammy category recognizes growing genre of music at intersection of Americana and gospel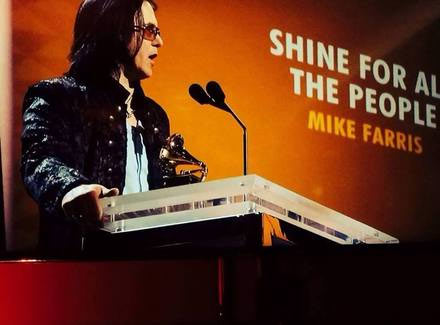 NEWS SOURCE: Conqueroo
February 10, 2015
LOS ANGELES, Calif. — Vocalist Mike Farris has become the first artist to receive a Grammy Award for Best Roots Gospel Album, for his Shine for All the People. Farris was presented the award by the National Academy of Recording Arts and Sciences at the 57th annual Grammy Awards ceremony held on February 8, 2015 in Los Angeles.
Folk titan Mary Gauthier says of Mike, "He takes people who are hurting, who are broken, who think they are alone, and through just the sound of his voice he lets them know that they're not ... that's magic."
On Shine for All the People, Farris' musical vision coalesces into a sound that harkens back to early soul records yet emerges completely fresh. The album includes both original material and Farris' trademark interpretations of traditional gospel, steeped in the influence of rock, vintage Memphis soul and the swagger of New Orleans.
The powerhouse vocalist won an Americana Music Award for New/Emerging Artist in 2008, followed by a GMA Dove Award in 2010. Now with a Grammy nod for Best Roots Gospel Album in hand, Farris is blessed with a fitting acknowledgement of the music he brings from his heart and soul.
The Bluegrass Situation recorded Farris performing "Power of Love" for its online magazine: http://bit.ly/MikeFarris_PowerOfLove
• "10 Hidden Gems From 2015's GRAMMY Nominations" –USA Today
• #1 Best R&B Album of 2014 –PopMatters
• - #44 Best Album of 2014 –PopMatters
Documentary on Mike Farris
http://youtu.be/jGTIBYcs7vQ?list=UUlxzGD9FDdC4QM4KwcQ9LdQ
Shine for All the People is available now via Compass Records.
###