MATTHEW WEST ANNOUNCES "THE LIVE FOREVER TOUR" WITH SPECIAL GUESTS COLTON DIXON AND MR. TALKBOX
NEW ALBUM LIVE FOREVER RELEASES APRIL 28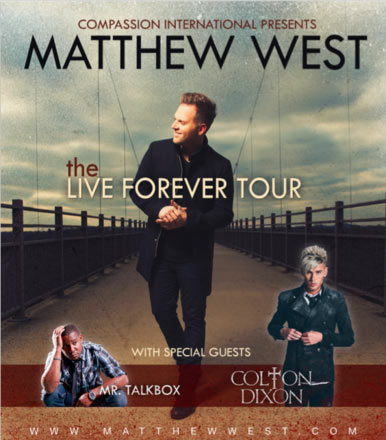 NEWS SOURCE: Merge PR
February 17, 2015
NASHVILLE, TENN. (February 17, 2015) Four-time GRAMMY®-nominated singer/songwriter Matthew West has announced his The Live Forever Tour with special guests American Idol finalist Colton Dixon and Mr. Talkbox formerly of TobyMac's Diverse City Band. Compassion International presents this 40-city tour that will begin on March 5th in Poughkeepsie, NY (tour dates listed below). In addition to the standard ticketing options, a special VIP ticket package is being made available on most dates. For more information on the VIP options as well as all ticket purchasing info for each specific date, go to MatthewWest.com.
"My journey of encouraging people to tell their story has led to me receiving over 40,000 stories from all over the world, and now I'm finishing up a third project in which every single song is inspired by one of those stories," shares Matthew West about Live Forever and the tour. "I can't wait to share these songs and stories with audiences everywhere. This will be more than just a night of entertainment, but an unforgettable experience being reminded that God has a plan for the stories of each of our lives."
West continues his mission to tell a story of a different kind with his music – to transform listeners' stories into life-changing songs. He will release his new studio album, Live Forever, on April 28 (Capitol Christian Music Group) featuring songs inspired by the thousands of stories he continues to receive. The debut radio single, "Day One", from the forthcoming album is climbing the radio charts quickly as it is approaching the Top 10 after just 5 weeks. Click below to see the lyric video for "Day One."
ABOUT MATTHEW WEST: Matthew West is a multiple-ASCAP Christian Music Songwriter/Artist of the Year winner, a four-time GRAMMY® nominee, and was awarded his first American Music Award (2013) and a Billboard Music Award (2014). Matthew West's discography includes acclaimed releases: Happy (2003), History (2005), Something to Say (2008), The Story of Your Life (2010) and GRAMMY-nominated Into The Light (2012). West was nominated for a Primetime Emmy® Award for Original Music & Lyrics for "The Heart of Christmas" from the film of the same name. His songwriting credits include cuts by Rascal Flatts, Billy Ray Cyrus, Diamond Rio and more. He spent much of late 2012 and early 2013 on a pre-headlining stint on WinterJam Tour Spectacular, the No. 1 tour in the world. He wrapped 2013 with his own headlining in the fall of 2013 and "The Story Tour" in December. During 2014, West toured with the "Hits Deep Tour" as well as his sell-out "Hello My Name Is…" acoustic tour.
ABOUT COLTON DIXON: 19 Recordings' Dove Award-winning artist and Season 11 American Idol finalist, Colton Dixon released his sophomore album Anchor (19/Capitol CMG) in 2014. Anchor is the follow-up to his 2013 debut, A Messenger, which set the record for biggest first-week sales by a new solo Christian act. Becoming the No. 1 selling album of 2013 by a new Christian artist and the No. 9 best selling album of 2013 in the Christian genre overall, A Messenger also became the No. 22 best-selling album across all genres that same year. Dixon has received three Dove Award nominations, winning for Best Contemporary/Rock Album A Messenger), and was nominated for Male Artist of the Year at the 2014 and 2015 KLOVE Fan Awards. Colton also racked up two No. 1 radio singles in 2013 and has toured with Third Day, TobyMac, Josh Wilson, WinterJam and more. Dixon was also named an Official Steinway Artist in 2014. For more information visit www.ColtonDixon.com.
ABOUT MR. TALKBOX: Orlando-born performer Byron Chambers aka Mr. Talkbox is a two-time GMA Dove Award winner and 2015 GRAMMY-nominee. Mr. Talkbox has performed alongside such Gospel greats as Jonathan Butler, The Mighty Clouds of Joy, Fred Hammond, CeCe Winans, Kurt Carr and Bishop T.D. Jakes, to name just a few. His career exploded when he was offered a shot at playing keys with mega-pop band *NSYNC, and he has since toured and performed with pop superstars like the Backstreet Boys, Britney Spears, O-Town, Gloria Estefan and Jordan Knight. He then joined the TobyMac's Diverse City band touring for the last five years (2009-2014). Talkbox's debut independent solo CD, My Testimony, impacted sales in more than 17 countries and went on to become one of CD.com's top sellers and charted No. 1 on the Japan Christian and Gospel Charts with the catchy hit song "Destiny." His song "Ground Zero" has reached more than 17 million views on YouTube and was used for a stunt group called Dude Perfect. For more information visit www.mrtalkbox.com.
MATTHEW WEST - THE LIVE FOREVER TOUR - Dates Subject to Change
March 5 Poughkeepsie, NY
March 6 Morgantown, WV
March 7 Burlington, NJ
March 8 Williamsport, PA
March 10 Smithfield, RI
March 11 Worchester, MA
March 12 Lancaster, PA
March 13 Knoxville, TN
March 14 Griffin, GA
March 19 Amarillo, TX
March 20 Belton, TX
March 21 McAllen, TX
March 25 Hobbs, NM
March 26 McMurray, PA
March 27 Clarkston, MI
March 28 Paducah, KY
March 29 Bourbonnais, IL
April 2 Springfield, MO
April 3 Quincy, IL
April 4 Decatur, IL
April 9 Keller, TX
April 10 Cypress, TX
April 11 Tulsa, OK
April 12 San Antonio, TX
April 13 Alexandria, LA
April 15 Punta Gorda, FL
April 16 Bradenton, FL
April 17 Lakeland, FL
April 18 Largo, FL
April 19 Ocala, FL
April 23 Wichita, KS
April 24 Lincoln, NE
April 25 St. Charles, MO
April 26 Fort Wayne, IN
April 29 Carmel, IN
April 30 Wise, VA
May 1 Woodbridge, VA
May 2 Bel Air, MD
May 3 Charleston, WV
May 8 Getzville, NY
###
For more info on Matthew West visit the JFH Artists Database.
For more info on Colton Dixon visit the JFH Artists Database.