HILLSONG CONFERENCE 2015 HITS
NEW YORK CITY AREA
OCTOBER 22-24 AT PRUDENTIAL CENTER
REGISTRATION OPEN NOW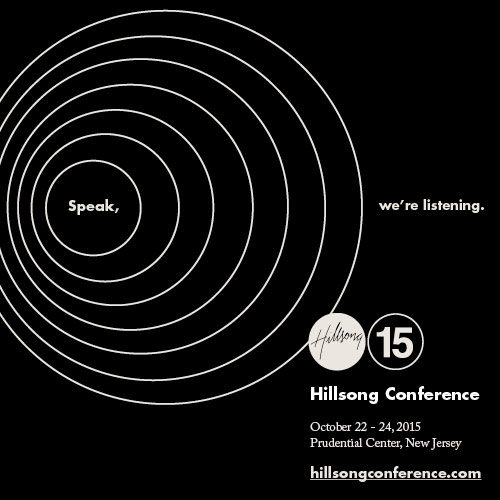 NEWS SOURCE: TKO Marketing
February 24, 2015
(Newark, N.J.) February 24, 2015 - The world-renowned Hillsong Conference 2015 returns to the New York City area October 22 - 24, 2015 at Prudential Center in Newark, N.J. Registration for Hillsong Conference NYC is open now.
"We are trusting God's Spirit to enable us to create the most perfect gathering in 2015," said Hillsong Pastors Brian and Bobbie Houston. "As always we will labor to bring the finest Bible teachers, Kingdom-inspirers and creative- innovators to the Hillsong Conference, in order that you, your family and your team are blessed. Our prayer is that the Church, local and global, will continue to rise in her full stature and that the Harvest He longs for will not be disappointed."
Pastors Brian and Bobbie Houston will be hosting the conference together with Carl Lentz, Hillsong Worship, and the Hillsong team. For more information on the conference and to register, please visit: http://hillsong.com/conference/nyc.
About Hillsong Conference: Hillsong Conference exists to champion the cause of local churches everywhere. It is about you, your Church and seeing God's Kingdom advance across the earth. We do not take lightly the power and strength in unity and the opportunity this is to pour into you and your House. Come and lean in, receive and take home practical teachings you can outwork in your own church home, family and community. Hillsong Conference - where we gather together as ONE Church under ONE Name, the Name of Jesus.
About Premier Productions: Formed in 1996, Premier Productions is the largest producer of Christian concert events in the nation and the co-founder of the Winter Jam Tour Spectacular, Christian music's largest annual tour! With more than 200 events a year, Premier promotes award-winning artists with No. 1 hits such as - TobyMac, Skillet, Casting Crowns, Hillsong Live, Hillsong UNITED, Lecrae, Bill Gaither & Friends Homecoming, Jesus Culture, Kari Jobe, Matthew West and many more! For more information on Premier Productions, please visit www.premierproductions.com.
About Prudential Center: Prudential Center is a world-class sports and entertainment venue located in downtown Newark, New Jersey. Opened in October 2007, the state-of-the-art arena is the home of the National Hockey League's (NHL) three-time Stanley Cup Champion New Jersey Devils, Seton Hall University's NCAA Division I Men's Basketball program, and over 200 concerts, family shows and special events each year. Prudential Center welcomes over two million guests annually and placed third on Venues Today's 2013 ranking of national facilities and ninth worldwide. For more information about Prudential Center, visit www.PruCenter.com and Facebook, and follow @PruCenter on Twitter.
- ### -