WORD PUBLISHING WINS BIG
AT SESAC CHRISTIAN MUSIC AWARDS
Justin Ebach Among Top Winners

Surprise Performance of No. 1 Hit "He Knows My Name" from Francesa Battistelli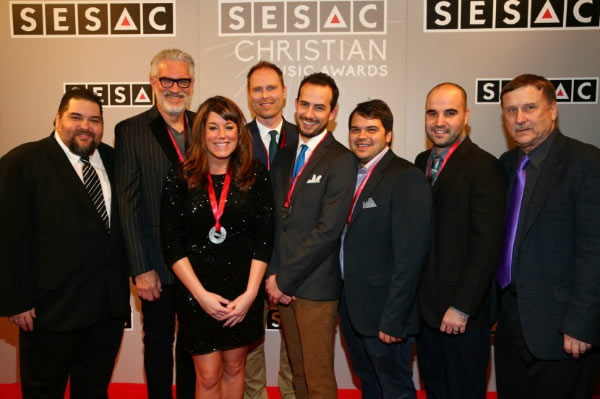 (L-R: Tim Fink (SESAC Vice President, Writer/Publisher Relations), Dale Mathews (SVP Music Publishing and Church Resources, Word), Janine Appleton (Creative Director, Word), Trevor Mathiesen (Assistant Creative Director and Publishing Administration,Word), Joel Timen (Creative Director, Word) Justin Ebach (Word Writer), Matt Armstrong (Word Writer), John Mullins (SESAC Senior Director, Writer/Publisher Relations) (photo taken at SESAC Christian Music Awards, Nashville, TN)
NEWS SOURCE: Word Records
March 12, 2015
March 12, 2015, Nashville, TN - Word Publishing scored several wins at the SESAC Christian Music Awards, held Tuesday, March 3 at City Winery in Nashville, TN. The awards recognized activity for songwriter and publishers in 2014. Word Publishing songwriter, Justin Ebach, was among the night's biggest winners, walking away with three awards, including one for his song, "Hope Can Change Everything." Justin wrote the song for the Detroit K-LOVE Hope House, and one hundred percent of artist and writer royalties from the song, which features Bart Millard (MercyMe), Francesca Battistelli, Matt Maher, Dave Frey (Sidewalk Prophets), Jeremy Camp and Jamie Grace, go towards World Hope and the revival for Detroit. Find more information here.
Another winning song, "We Are the Brave," came from a relatively new Word Recording artist, VERIDIA. The band's vocalist, Deena Jakoub and guitar player, Brandon Brown co-wrote the song with Ian Eskelin, who also scored three awards that evening.
In between the award presentations, the evening was punctuated with special moments and surprise performances. Among the highlights was a surprise performance by Fervent Recording Artist, Francesca Battistelli, who sang her No. 1 hit, "He Knows My Name," written by Christian Songwriter of the Year, Seth Mosley, who took home 12 performance awards. Overall, seven songs from Word Publishing were recognized, totaling nine individual awards. See full award-listing below.
Word Publishing

SESAC Christian Music Awards Winners
"All Eyes On You" recorded by OBB
Written by Justin Ebach, Jacob Oswald, Nich Oswald, Zach Oswald, Nate Sallie
Published by Bella Muerte, Cup of Dirt Publishing, Curb Congregation Songs, How Do You Like My Publishing, Wordspring Music
"Here For A Reason" recorded by Ashes Remain
Written by Justin Ebach
Published by Wordspring Music
"Hope Can Change Everything" recorded by Bart Millard, Francesca Battistelli, Jamie Grace, Jeremy Camp, Matt Maher & Sidewalk Prophets
Written by Justin Ebach
"Say Amen" recorded by Finding Favour
Written by Michael Farren
Published by Farren Love and War Publishing, Wordspring Music
"The One I'm Running To" recorded by 7eventh Time Down
Written by Cliff Williams, Ian Eskelin, Mikey Howard
Published by Aevinesaint Music, Early Service Music, Love Journey Music, Moms Like Us Too, Wordspring Music
"Unashamed Of You" recorded by Chris August
Written by Ian Eskelin
Published by Early Service Music, Wordspring Music
"We Are The Brave" recorded by Veridia
Written by Brandon Brown, Ian Eskelin, Deena Jakoub
Published by Early Service Music, Wordspring Music
For more info on these artists visit the JFH Artists Database.

- ### -