SUSAN TONEY:
KEEPING GOD IN THE MAINSTREAM MIX
NEW SINGLE "MISSING ME (Remix)" NOW IMPACTING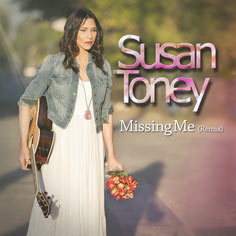 NEWS SOURCE: MorningStar PR
March 19, 2015
(Nashville, Tennessee) March 19, 2015-Celebrated as a poignant lyricist, accomplished musician and transcendent vocalist, SUSAN TONEY wings from her homebase in LA to Nashville this month to support the release of her latest single. "Missing Me (Remix)."
The new music showcases a fusion of pop, country, rock and rhythm and blues coming from her, much celebrated CD project release, LOVE IS THE CURE-THE ESSENTIAL COLLECTION. Under the umbrella of her own label, Strange Child Records, Toney has forged an ecletic creative journey--exploring the freedom of drawing from multiple styles and lyrical expression without limits. Encompassing the influences of her heritage, Toney delivers a transparent, introspective collection of songs steeped in personal introspectiion and shaded with subtle revelations of faith, a renewed wisdom and confidence in her message and craft-all mused by a new chance on life-a miracle. While engrossed in her pursuit of mainstream music, Toney is quick to acknowledge, "God is in every mix."
Susan miraculously survived a rollover car crash in November 2003 and her survival hung by a thread. But with a faithful heart, unbridled spirit and strength that rushed through her veins, she recognized the tragic accident as an ultimate part of God's plan and saving grace. Susan found renewed faith, hope and determination to further pursue the very reason she is here-to use her voice to help others. A scholar of the performing and creative arts, Susan Toney is a songwriter, recording and performing artist, actor and book author who still has so much more to live for-so much more to say.
"After a lot of different turns and hurdles, it took me awhile to get here. I believe there was a purpose and a plan. I had to look at this next chapter of my life as an exciting new adventure." With renewed purpose and zeal powered by a deep love and trust in a greater power, Toney returned to the recording studio where she sought new inspiration by revisiting and addressing the past-her life's journey of past loves and losses, triumphs and defeats-and welcoming the future with hope.
Hailing from Los Angeles, Toney ventured south towards Nashville to fulfill her creative vision to step far and beyond her own boundaries to explore the multitude of possibilities in a musical community where the imagine runs wild and musicianship is bountiful. Music City afforded Toney room to grow and a door wide open to blossoming, organic, creative expression on her "Love Is The Cure-The Essential Collection" project.--ultimately completed with Grammy and multi-platinum award winning producer David Z with additional engineering, recording production and mixing at Crescent Heights DIgital in LA. Final mastering was dpne by Eriick Labson and completed at MCA Mastering Studios in Los Angeles.
Working creatively with David Z (Prince, John Mayall, Jonny Lang, Etta James, Eric Clapton, Tab Benoit) recording at the esteemed Ocean Way Recording Studios on Music Row with the mastering brilliance of the renowned Grammy winning Ray Kennedy (Taylor Swift/Shania Twain) and Erick Labson (Sublime, Aerosmith, Boyz II Men, The Who) only the best lent their giftings to Susan Toney's music. Surrounded her too were an A-list line-up of players, including artist/writer and piano virtuoso Jane Getz on keys; Mike Rojas on piano, B3 organ and keyboards; Pat Buchanan, Jack Holder and Bob Britt on acoustic and electric guitars; Steve Mackey on bass; Lynn Williams on drums and percussion; Blake Bramlett and Grammy nominated Gospel artists the McCrary Sisters on background vocals.
The result is an album rich in Toney's profound songwriting and self-reflection and re-discovery complemented by a sonic intimacy and edginess as a rare product of the "meeting of musical minds and talents. The sheer creative strength of the collabratives assembled paved easy sailing for Toney's Grammy Award ballot submission across a five catagory spread in the 56th Annual Grammy Awards. Toney feels a creative need to be spiritually transparent in her gift. "My music is like a tree with branches of universal truths. Like a tree, some of the tracks are oak strong-some are like a weeping willow," notes Toney reflectively.
Her music is consistently boldly painted with messages of enduring triumphs and overcome tribulations -a contrast between light and dark balanced on memorable arrangements.
"I hope to tap into listeners' feelings and help them to get in touch with and process their emotions-whether the emotions are raw and painful or in conflict. God is definitely in the mix in my music and life."
Just wrapping her latest music video in LA, and now armed with her latest single release, "Missing Me (Remix)" impacting radio this month-Susan will hit Nashville with her best accessory-her guitar-in hand. With her too is her trademarked ability to captivate audiences with her compelling vocals, profound lyricism and melodious dynamics in every performance. Her music is palpable as it demonstrates the harmony of vast musical influences and the philosophy of love as the heart-beat of a creative life well lived.
Resource: www.susantoney.com
- ### -