Matt Wertz, Dave Barnes Two Birds / One Stone Tour to benefit Mocha Club
Partnership commemorates ten years of support for community development work in Africa from Wertz, Barnes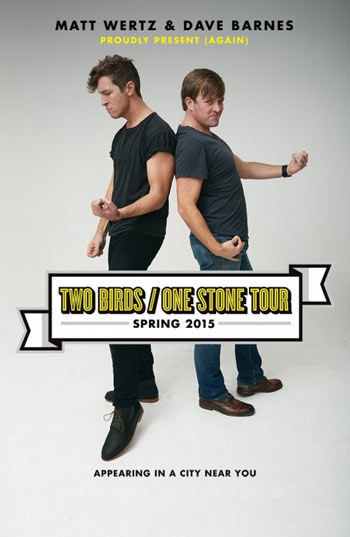 NEWS SOURCE: African Leadership, Inc
March 24, 2015
Brentwood, Tenn. - Mocha Club and singer-songwriters Dave Barnes and Matt Wertz announced today the continuation of a 10-year partnership to change communities in Africa. With the launch of their Two Birds / One Stone Tour on March 26 and continuing through each date, Barnes and Wertz will share the work of Mocha Club and ask concert-goers to join in on the efforts.
"Right around when we both started playing music to crowds ten years ago, Mocha Club started as a way to give small sacrifices to make a BIG difference," said Barnes. "The work to accomplish so much in Africa has been happening way before we joined in. Women healed. Orphans cared for. And children getting an education. We're just thrilled to continue to be a part of it."
Proceeds raised for Mocha Club on the Two Birds / One Stone Tour will benefit Mocha Club's work with women who were previously forced into a life of prostitution as an attempt to escape poverty. This program works with women toward a healthier and self-sustaining lifestyle after leaving a life on the streets in Ethiopia. This program carries an 88% success rate over the last 10 years of bringing women off the streets.
Mocha Club supports the initiative along with others that range from education to providing basic needs for orphans. Each happens thanks to the commitment of more than 12,000 Mocha Club members to one of five project areas: Healthcare, Education, Economic Freedom, Clean Water, and Orphan Care. Added Wertz: "I've been to Africa several times, and most recently traveled with Mocha Club to all of its major projects in three countries across the continent. That whirlwind trip confirmed one thing in my heart and my head: there are amazing men and women who are healing their communities. I can't help but jump in on the work." Wertz chronicled his experience as part of a 10-video series called the Mocha Club Experience 2.0.
The Two Birds / One Stone Tour begins on March 26, 2015, in Houston, Texas. The tour also includes special guest and Mocha Club artist Jon McLaughlin. To keep up with daily happenings, follow via Twitter at @davebarnesmusic and @mattwertz. Mocha Club's artist roster also includes Sidewalk Prophets, which is currently on tour featuring Mocha Club, as well as Parachute, Everfound, Jimmy Needham, and others listed at www.themochaclub.org. Follow Mocha Club on Facebook, Twitter (@MochaClub), and Instagram (mochaclub).
About Mocha Club
Mocha Club is a community of more than 12,000 who have given up the cost of a few mochas a month to fund development projects in Africa. Working in five main project areas - Clean Water, Education, Economic Freedom, Orphan Care, and Healthcare - Mocha Club is active in 15 countries in Africa. For more information, visit www.themochaclub.org.
- ### -
For more info on Dave Barnes visit the JFH Artists Database.
For more info on Matt Wertz visit the JFH Artists Database.