Grammy® Award-Winning Recording Artist Kirk Whalum Releases
The Gospel According To Jazz Chapter IV
Docu-Music Concert Film/DVD May 19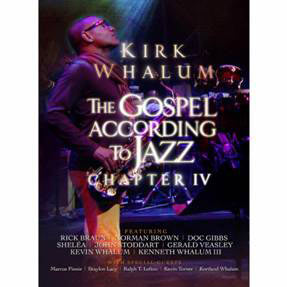 NEWS SOURCE: TKO Marketing
April 10, 2015
DETROIT - Grammy® Award-Winning Recording Artist Kirk Whalum presents his highly-anticipated new docu-music concert film/DVD The Gospel According To Jazz Chapter IV, in partnership with Mack Avenue Records and Rendezvous Music. The Gospel According To Jazz Chapter IV docu-music concert film/DVD, which chronicles the album recording process and offers candid access to the artist as he reflects on his career and the music, is set for release on May 19, 2015 and distributed by Sony Red Distribution and Provident Distribution. The film features the live recording of the companion album at the Christian Cultural Center in Brooklyn, N.Y.
Saxophonist Whalum elevates his award-winning Gospel According To Jazz series to a new level featuring the best in Gospel music, Contemporary Jazz, and Urban music and eloquently demonstrates the deep connections between Gospel and Jazz. The Gospel According To Jazz Chapter IV project is an invitation to pause, hear, and "see" in a fresh, prescient way, but above all, it is a tribute in a uniquely gospel-centric way.
The docu-music concert film/DVD features Rick Braun, Norman Brown, "Doc" Gibbs, Sheléa, John Stoddart, Gerald Veasley, Kevin Whalum, and Kenneth Whalum III. Special guests include Marcus Finnie, Braylon Lacy, Ralph T. Lofton, Kevin Turner, and Kortland Whalum.
LINKS:
EPK: http://smarturl.it/gatj4EPK-HD
Trailer: http://smarturl.it/gatj4trailer
Double CD - http://smarturl.it/amzngatj4cd
Digital Music - http://smarturl.it/digitalgatj4
DVD - http://smarturl.it/gatj4dvd
Connect:
Facebook: www.facebook.com/KirkWhalum
Twitter: www.twitter.com/KirkWhalum
Instagram: www.instagram.com/KirkWhalum
YouTube: www.youtube.com/user/KirkWhalumLive
Website: www.kirkwhalum.com
About Kirk Whalum:
Forged from his Memphis, TN gospel roots and his 1980's initiation into the thriving Houston, TX scene, Kirk's big, rich tenor sound is unmistakably his. The 80's were highlighted by Kirk's stepping out of his blossoming sideman role and forming his own band. It was there that Kirk ultimately developed both his "voice" and songwriting. It was also in Houston where jazz pianist Bob James "discovered" him and brought him on tour, which led to five successful albums with Columbia Records, including Cache, Kirk's first #1 album. As well, Kirk and Bob received a Grammy nomination for their collaboration album, Joined at the Hip. After moving to Los Angeles, Kirk became an in demand session player for top artists like, Barbara Streisand, Al Jarreau, Luther Vandross, Larry Carlton, Quincy Jones and most notably, Whitney Houston, amongst many others. It's his sax heard on the mega-hit, "I Will Always Love You." Kirk soon followed that career high point with his phenomenal hit album released on Warner Bros. Records, For You, perhaps the most successful of over 25 solo recordings to date; others include his eclectic Gospel According to Jazz series, (Chapters 1, 2 and 3 - And Chapter 4 hitting on March 24, 2015). An ordained minister, Kirk has earned his Masters of Art in Religion. It's in this spirit that he serves his community, frequently performs and volunteers at nursing homes, schools and missions. There is also his daily fifteen minute podcast, Bible In Your Ear (BIYE), in which he invites you to listen along as he reads through the Bible in a year. In addition to music and ministry, Kirk has a passion to educate young, aspiring musicians and as such he currently serves as Chief Creative Officer of the STAX Music Academy and the STAX Museum of American Soul Music in his hometown of Memphis, TN. Kirk is the recipient of numerous awards and acknowledgements for his musical excellence including three Dove Award nominations, an NAACP Image Award nomination and has won two Stellar Awards-Gospel music's highest honor. An eleven time Grammy® nominee, Kirk won his first Grammy® Award for Best Gospel Song ("It's What I Do"-featuring Lalah Hathaway) alongside life-long friend and gifted writer, Jerry Peters.
- ### -