As Cities Burn Announce 10th Anniversary Tour of
Son, I Loved You At Your Darkest
New Video "Prince of Planet Earth" Out Today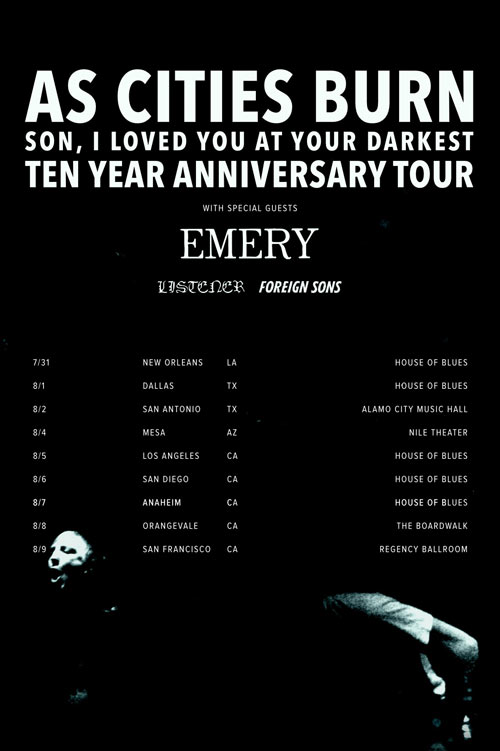 NEWS SOURCE: Warner Music Nashville
June 1, 2015
(June 1st, 2015) As Cities Burn is only dead until its alive again. Teasing their tenaciously loyal fans with two new songs this month, starting with a new video for "Prince of Planet Earth" today, the surprises don't end there. TJ Bonnette, original front man who helmed the groundbreaking record Son, I Loved You At Your Darkest, is back on the mic for the new tunes. As Cities Burn will be joined by close friends and former label mates Emery on tour this summer to celebrate the ten year anniversary of their pivotal album. Simultaneously, fans will be able to enjoy at least a few new songs on the road.
Starting today at 3pm PST, you can purchase pre-sale VIP ticket packages at AsCitiesBurn.net with general sales beginning June 5th.
The new recordings were the result of primary songwriter, Cody Bonnette, wanting to give something new to the fans instead of continuing to fuel As Cities Burn on nostalgia alone. With the intent to keep word of new material completely unknown to the public, Bonnette and drummer Aaron Lunsford holed up in a practice space in Nashville, TN to write new tunes, eventually teaming up with producer J Hall of Franklin, TN to bring the songs to life. As a result of this process, As Cities Burn has broken new ground creatively, figuring out a way to draw from a wide array of influences that should appeal to As Cities Burn fans of all varieties.
"Seeing as how As Cities Burn almost broke up a year after Son, I Loved You At Your Darkest was released, it's amazing that ten years later we are able to get back out on the road and celebrate the music that changed our lives forever. Most of all we are excited to reconnect with fans and hang out with old friends. Having two new songs with TJ back doing vocals makes it all that much more exciting."
While the band is keeping their lips sealed for now as to the possibility of more music in the future, Lunsford, drummer turned author, will be releasing a new full length book that chronicles the early days of ACB and the events surrounding SILYAYD, their most influential and timeless record.
AsCitiesBurn.net
Facebok.com/AsCitiesBurn
Instagram: @officialacb
Twitter: @officialacb

###
For more info on As Cities Burn visit the JFH Artists Database.