JESUS CULTURE'S CHRIS MCCLARNEY MAKES TOP 10 DEBUT WITH NEW LP EVERYTHING AND NOTHING LESS
Performed To More Than 30,000 People During May European Tour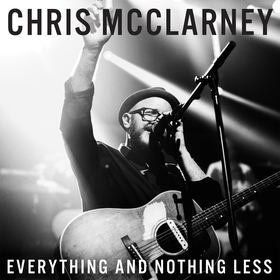 NEWS SOURCE: Merge PR
June 18, 2015
NASHVILLE, TENN (JUNE 18, 2015) - Jesus Culture's Chris McClarney released his live worship album, Everything And Nothing Less, last week to high acclaim. The album, which was recorded live at the Jesus Culture Encounter Conference in Sacramento held earlier this year, debuted in the Top 10 on Billboard's Top Christian Albums Chart. McClarney's unique gift of leading people to experience the power of Jesus has not gone unnoticed, with many critics highlighting him and the album by saying:
"At the instance of a first listen, your heart and soul will not be able to turn loose of these great new worship songs." - LifeWay's Worshiplife
"McClarney writes and performs these songs of praise and adoration so naturally that it will inspire many to join in and surrender all to the One who is worthy." - NewReleaseToday
"If you are looking for a worship record that exudes a holy awe that comes from a singer who throws in his heart and soul in worship, look no farther than McClarney's Everything and Nothing Less." - Hallels
"[This record] provides thoughtful...worship tracks delivered with passion, praise, and authenticity." - Soul-Audio
This past May McClarney joined Chris Quilala and the Jesus Culture band on a European tour and performed to more than 30,000 people. Making tour stops in Belfast, Dublin, Helsinki and Holland, they also participated in West Sussex's Big Church Day Out, which is one of the UK's largest annual Christian events. At Big Church Day Out, McClarney led worship alongside Quilala and special guest Martin Smith for more than 23,000 people in the English countryside on the Wiston Estate.
Chris McClarney is well known for writing the powerful worship anthem, "Your Love Never Fails," which has become one of the most popular songs in churches across America as reported in the Top 25 of Christian Copyright Licensing International (CCLI). "Your Love Never Fails" is now Jesus Culture Music catalogue's top-selling song of all time, as well as the title track to their biggest selling album in 2008. Newsboys released the song in 2011 and it went No. 1 on the Christian Hot AC/CHR chart for six consecutive weeks. McClarney's other top CCLI songs include "Your Love is Everything," "I Need You More" and "Waste It All."
Please visit the below video to catch McClarney's most recent Behind The Song post with his song "All Consuming Fire."
About Jesus Culture Music: Jesus Culture Music is Sacramento, CA-based and led by Senior Team Director Banning Liebscher. Jesus Culture was formed through the momentum of a movement that is focused on equipping a generation to transform society by bringing people into an encounter with God's love through worship and discipleship. Jesus Culture Music albums capture the heart of this movement. Jesus Culture Music has sold more than one million albums worldwide since their debut project in 2005 and garnered more than 3.8 million followers on social media and over 34.5 million views on YouTube.
Jesus Culture Music is a label that contains 12 artists including: Jesus Culture Band, Kim Walker-Smith, Bryan and Katie Torwalt, Chris Quilala, Kristene DiMarco, Derek Johnson, Justin Jarvis, Andrew and Mary Kat Ehrenzeller, Chris McClarney, Skyler Smith and Josh and Amberly Klinkenberg. To date, the Jesus Culture Band has recorded ten albums and released a total of 25 projects on their music label. The latest release from Jesus Culture Band, Unstoppable Love, climbed to No. 2 on the iTunes overall chart and debuted at No. 25 on the Billboard Top 200 chart and No. 1 on the overall Top Christian/Gospel Albums Billboard retail chart.
CONNECT WITH CHRIS MCCLARNEY:
www.ChrisMcClarney.com
###
For more info on Chris McClarney, visit the JFH Artists Database.