ONE ARK. 50,000 ANIMALS. WHAT COULD GO WRONG?

ALL CREATURES BIG AND SMALL

DEBUTS EXCLUSIVELY ON GOOGLE PLAY JULY 1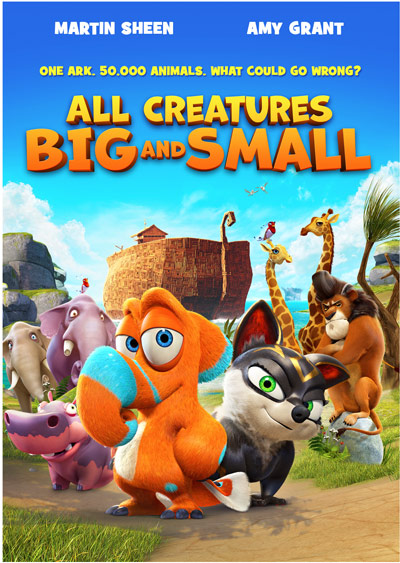 NEWS SOURCE: MPRM
June 23, 2015
Monday, June 22, 2015 - (Mountain View, CA) - Join the animal kingdom on the journey of a lifetime with the exclusive debut of All Creatures Big and Small on Google Play July 1st, 2015. Featuring the voice talents of Martin Sheen and Amy Grant, and distributed by Entertainment One (eOne), All Creatures Big and Small is a family-friendly, feature-length adventure that reimagines the epic tale of Noah's Ark. Just in time for the long holiday weekend, audiences in the U.S. can enjoy their own complimentary HD copy starting July 1, and can pre-order the movie for their library starting today.*
In All Creatures Big and Small, a clumsy new species of Nestrians, led by patriarch Dave and son Finny, find themselves left off the list of animals allowed to board Noah's Ark. With rough waters ahead, the father-son duo scramble in disguise to sneak onto the boat. Caught up in all the excitement, Finny accidentally steps off the boat and gets left behind leaving him and a few new friends to embark on an incredible and harrowing journey to reunite with their family. With the aid of creatures big and small, Dave must turn the Ark around to save his son in this heartwarming adventure of biblical proportions.
The release of All Creatures Big and Small coincides with the launch of Google Play's new family-friendly discovery experience that is designed to help parents find apps, games, movies & TV shows and books that are appropriate for their kids.
About Google Play
Google Play is an online store with millions of digital songs, movies, TV shows, apps, games, books and more. With access to 30 million songs, thousands of new release movies and next day TV shows, millions of apps and games, and thousands of news sources, Google Play is your one stop shop for digital entertainment on any device.
About Entertainment One
Entertainment One Ltd. (LSE:ETO) is a leading international entertainment company that specializes in the acquisition, production and distribution of film and television content. The company's comprehensive network extends around the globe including Canada, the U.S., the UK, Ireland, Spain, Benelux, France, Germany, Scandinavia, Australia, New Zealand, South Africa and South Korea. Through established Film and Television divisions, the company provides extensive expertise in film distribution, television and music production, family programming, merchandising and licensing, and digital content. Its current rights library is exploited across all media formats and includes more than 40,000 film and television titles, 4,500 hours of television programming and 45,000 music tracks.
###
For more info on Amy Grant visit the JFH Artists Database.