BECCA BRADLEY RELEASES THE LION'S EYES AMIDST ACCLAIM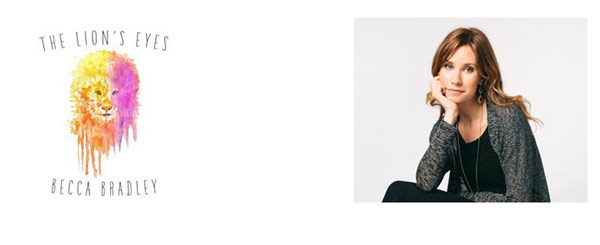 NEWS SOURCE: Hoganson Media
August 7, 2015
Nashville-based worship leader, accomplished musician and recording artist Becca Bradley independently released her second studio EP, The Lion's Eyes, Friday (Aug. 7, 2015) amidst acclaim. Penning all of the songs on her newest project, including two co-writes with producer Evan Sieling, Bradley presents a thematic message of light and dark that points to a Jesus who is undeniably compelling to those first hearing the gospel.
Featuring Bradley's bright pop vocal style infused with remarkable emotional range, media are applauding The Lion's Eyes, saying:
"With the wispiness of Leigh Nash and the mellifluousness of JJ Heller, Bradley has a way of interweaving both profundity and subtleties in her vocal cadences that is rewardingly soul-searching. When she sings not only can she express the vulnerability of our hearts before God with its complex array of fears and doubts, but she can also reveal to us the tenderness of God coming to our weaknesses in utter grace. Such vocal competencies…are rare. And Bradley's voice itself is worth the price of this worship EP The Lion's Eyes." - Hallels.com
"Bradley's silvery tone and thoughtful lyrics present an encouraging message of hope for us all. Her songs offer hope for ourselves that is found in Christ as well as encouragement to live our lives and share that hope with others…This 6-song EP is filled with about 25 minutes of hope and encouragement…sure to lift your spirit and maybe even put a little pep in your step." - HollywoodJesus.com
"The beauty of God shines through in the ways He loves us and the people who love Him. A mixture of wonder, joy, and light, Becca Bradley's The Lion's Eyes has only one shortfall; not enough songs! May you experience the amazing forgiveness and grace of the Lord anew in each track." - ChristianMusicReview.org
"Becca Bradley's second collection of 6 songs is an EP like no other. Well done Becca for such an honest and motivational EP." - 365 Days of Inspiring Media
Moving to Nashville and graduating with a Music Performance degree from Belmont University, Becca Bradley has played alongside such notable artists as Taylor Swift, Kelly Clarkson, Keith Urban, Lady Antebellum, Rascal Flatts, Amy Grant, Michael W. Smith and various other accomplished bands and artists. She spent a year on tour with Francesca Battistelli, playing and singing in the background-making appearances on national shows like Good Morning America and Fox & Friends. Bradley also had the opportunity to perform with other artists on the nationally televised CMA Awards and several CMA Country Christmas specials, before connecting with fellow music artist Jason Gray for a Christmas tour in 2014.
"Becca Bradley is about one of the most delightful people you could meet-with an infectious joy, care for others and love of life and for her Lord that just spills out of her onto anyone near her," says Jason Gray. "And all of this comes through so clearly in her music. Her newest record, The Lion's Eyes, is her best work yet and such a fine accomplishment. I feel so proud for my friend and excited for those who will connect with her music and be led into joyful places of worship and gratitude!"
For all the latest information on Becca Bradley and The Lion's Eyes, go to www.beccabradleymusic.com, https://www.facebook.com/beccabradleymusic, https://twitter.com/beccabmusic and https://instagram.com/beccabmusic/.
###