BILLBOARD CHART-TOPPING ARTIST
ANDY MINEO LAUNCHES
UNCOMFORTABLE TOUR OCTOBER 1
Tickets Now On Sale To The Public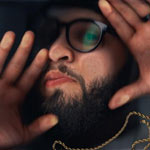 NEWS SOURCE: TKO Marketing
September 1, 2015
NASHVILLE (August 24, 2015) -Billboard chart-topping artist, Andy Mineo, launches his highly anticipated Uncomfortable Tour to coincide with his new album release, Uncomfortable, in stores September 18. The Uncomfortable Tour will kick off on October 1 in St. Peters, Mo.
Andy Mineo has been touring coast to coast and across Europe to share his reflective lyricism and unforgettable melodies with fans. Mineo's devoted following is primed and ready for what's to come on the new tour, and with the endorsement of music heavy-hitters such as Grammy-Award winning artist, Lecrae, MTV journalist and music expert, Rob Markman and acclaimed producer !llmind, the Uncomfortable Tour is sure to break records in the box office and on stage.
Buzzworthy rapper Andy Mineo is one of the top breakthrough hip-hop artists of the year. His successful run up to the release of Uncomfortable and tour includes a hit debut album, "Heroes For Sale," which charted at #11 on the Billboard Top 200, #4 on the Top Rap Albums chart and #2 on the Billboard Independent Albums chart, a follow-up EP, "NeverLand," which landed at #1 on iTunes, the official video for "You Can't Stop Me" which received over one million views on YouTube, and global touring in sold-out venues.
The Uncomfortable Tour stops in 27 cities.
UNCOMFORTABLE TOUR:
DATE VENUE LOCATION
Oct 1 Church on the Rock St. Peters, MO
Oct 2 Guts Church Tulsa, OK
Oct 3 Grace Community Church Houston, TX
Oct 4 University of Texas Arlington, TX
Oct 8 Aztec Theatre San Antonio, TX
Oct 9 City Bank Auditorium Lubbock, TX
Oct 10 The Summit Music Hall Denver, CO
Oct 11 Sokol Auditorium Omaha, NE
Oct 15 Wooly's Des Moines, IA
Oct 16 Benson Great Hall St. Paul, MN
Oct 17 House of Blues Chicago, IL
Oct 18 The Ground Floor Grandville, MI
Oct 22 Saint Andrews Hall Detroit, MI
Oct 23 Mercury Ballroom Louisville, KY
Oct 24 The Underground Cincinnati, OH
Oct 25 Old National Centre Indianapolis, IN
Oct 29 House of Blues Cleveland, OH
Oct 30 Irving Plaza New York, NY
Oct 31 Theatre of Living Arts Philadelphia, PA
Nov 1 Newport Music Hall Columbus, OH
Nov 5 The Fillmore Silver Spring Silver Spring, MD
Nov 6 Liberty University Lynchburg, VA
Nov 7 New Life Providence Church Chesapeake, VA
Nov 8 The Fillmore Charlotte Charlotte, NC
Nov 12 Crossover Church Tampa, FL
Nov 13 Alpha & Omega Church Miami, FL
Nov 15 Center Stage Theater Atlanta, GA
LINKS:
Website: www.andymineo.com
Twitter: @andymineo
Instagram: @andymineo
Facebook: www.facebook.com/andymineo
YouTube: www.youtube.com/channel/UC2C01dKf6tK8dD0z5AbLspw
###
For more info on Andy Mineo, visit the JFH Artists Database.