Kevin Max Launches PledgeMusic Campaign For New Album, Starry Eyes Surprise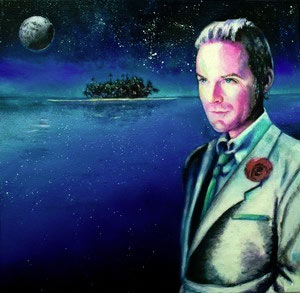 NEWS SOURCE: Jesusfreakhideout.com
September 3, 2015
As if releasing a brand new studio album and then its deluxe edition this year wasn't enough, Kevin Max has been hard at work for months on a new cover songs project, titled Starry Eyes. This week, Max launched a new PledgeMusic campaign to fund the record. Contributors get an immediate download of his cover of Nat King Cole's "Nature Boy" and an All Access pass into the campaign. Other options even include a brand new EP called The Same Wavelength, which is a collection of "new wave" covers, as well as an exclusive Be-Sides EP.
About the campaign, Max writes:
Last year was the first time I had ever agreed to do anything involved in crowd funding. I guess you could say I am a product of the old school, so used to record labels and management companies taking care of business. We are in a brand new landscape now within the music industry, and my eyes were opened when I partnered with you on my last project 'Broken Temples.' After that was completed and I had done a few shows to support it, I immediately became obsessed with what I wanted to do next with you, the listener. I find it compelling and inspiring that we can create things together and connect a story line through conversations and communication through companies such as PledgeMusic, Kickstarter, Indiegogo, etc.

I was convinced that the next musical project I do as a crowd fund would have to be a dream project of mine. There are a handful of dream projects, to be honest, but this one was special, above and beyond the rest. The idea of covering songs that informed and inspired me as a young man is obviously an emotional one.

I grew up on a farm in Michigan, as some of you know, pretty isolated and starving for entertainment. Those years of searching the radio, or collecting vinyl led me to formulating who I would be as an artist. I always knew I wanted to be a singer, even as young as four years old singing in front of the church. So, these songs are committed to the craft of singing. Crooners were my idea of the ultimate singer back then. From Frank Sinatra to Elvis Presley, Bing Crosby to David Bowie, they represented the very top of their craft, and it was what I wanted to do.

The deciding factor to me on what songs I wanted to cover had to be limited. There is so much to choose from, I had to narrow the choices down to a minimalist fraction. That was hard….. so I began to see it as the beginning phase, of many projects and I felt that it had to involve a subject. That subject became the night. Nighttime….. the mysterious hours of darkness, of which many of us lie awake contemplating our lives, or dive headlong into the mystery by becoming a bonafide night owl or club kid. I was always itching to go out at night, and in my town of Grand Rapids, it always ended up involving music in some way, shape or form.

These songs are curated to bring about the feeling of the innocence of the night. The romance of the twilight hours, wrapped up in a larger story, of mystery. The songs themselves are important, but just as important are the moods in which they were recorded. I wanted to create a sound universe where one could either drift off with headphones or sit awake contemplating the lyric. This is a project meant to invade the subconscious as well as the conscious…. but it also meant to entertain and to pay homage to the heroes that paved the way for me to sing.

Much Love, KM
For a wealth of campaign options, visit: http://www.pledgemusic.com/projects/starryeyessurprise
###
For more info on Kevin Max visit the JFH Artists Database.