JOHN WALLER'S "CRAZY FAITH" FEATURED IN
BOX OFFICE HIT MOVIE, WAR ROOM
Song Selected For Movie Was Inspired Through Process of Adopting Three Children

New John Waller Album, Crazy Faith, Available Now Through
City of Peace Media, Capitol Christian Distribution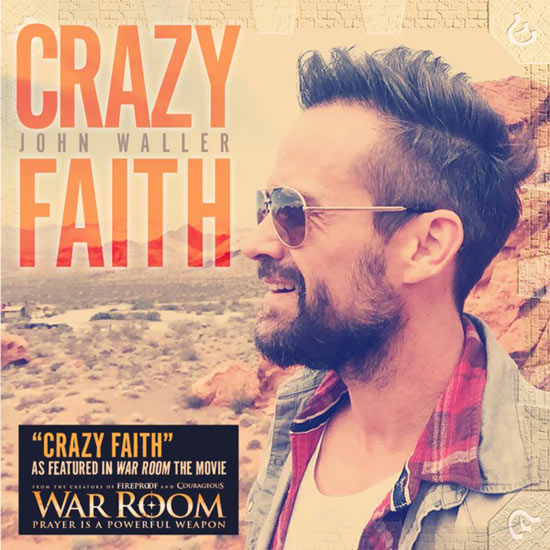 NEWS SOURCE: Hoganson Media
September 4, 2015
By Labor Day, more than two million people are anticipated to have heard the title track and first radio/video single from John Waller's album, Crazy Faith, through the hit movie, War Room. US News & World Report says the "faith-based War Room dazzles" as it garners the second biggest box office debut this week, just behind Straight Outta Compton. Scenes from War Room can be seen now in Waller's "Crazy Faith" music video at https://www.youtube.com/watch?v=XhG95crQxFU. Waller's full Crazy Faith album is also available now at physical and digital retailers everywhere through City of Peace Media and Capitol Christian Distribution.
The fifth film from Alex and Stephen Kendrick, the award-winning creators of Fireproof, Courageous and Facing the Giants, War Room made its debut Aug. 28 in theaters nation-wide through Sony Pictures Entertainment's TriStar Pictures.
"This is by far the Kendrick brothers' finest work, and I can't believe I get to be a part of it," says Waller. "Alex and Stephen have been so gracious to bring me along for the ride."
"I knew when I heard 'Crazy Faith' it would be the perfect song for War Room and would inspire people all over the nation!" exclaimed Alex Kendrick as he prepared for the movie debut.
The song "Crazy Faith" was written by Waller following a series of events that led him and his wife, Josee, to adopt three children. While going through the adoption process, the couple also discovered they were pregnant with their sixth biological child.
"We were excited when God laid it on our hearts to adopt a child and we knew it would take faith, but when one child turned into three, and then with a new baby on the way, it was a whole other level of faith," shares Waller. "It was 'Crazy Faith!'"
"Each person has his or her own challenges, life issues, and difficulties, and if we could pull back the curtain and see backstage into the real lives of each person, you would see a more accurate picture," continues Waller. "You would see how people really get through their daily lives, the decisions they make, and even the 'why' behind the choices they make. Ultimately, when everything is stripped away, it comes down to FAITH."
In addition to the film, "Crazy Faith" is gathering significant attention at radio. Next week (Sept. 9), Waller will travel to Orlando to connect with radio programmers, sharing his 'Crazy Faith' story during Christian Music Broadcasters' premiere event, Momentum 2015. He will also be playing the new single and other music from Crazy Faith while on tour, as well as perform fan favorites like "While I'm Waiting" and "As for Me and My House," songs he wrote that are featured in the hit movies Fireproof and Courageous respectively. For all the latest tour news, go to johnwalleronline.com. (Current tour dates are also listed below.)
From his early days leading the critically acclaimed band, According to John, to his impactful ministry as a solo artist, John Waller has continually used his gifts as a singer and songwriter to inspire, educate and encourage the body of Christ. Waller continues to articulate what it means to live a God-centered life in a turbulent world with "Crazy Faith."
Faith is the key inspiration for all new and original songs on Waller's upcoming album, Crazy Faith. His first new album in four years, the recording features not only the title track, but the compelling anthems "I Know My God" and "The Orphan Song," as well as live bonus tracks of "While I'm Waiting" and "As For Me And My House."
About John Waller
Georgia native John Waller first caught the attention of the Christian music community as frontman for the band, According to John. When the group disbanded, Waller and his wife Josee moved to Colorado where they helped launch Southlink Church. Though he had given up his aspirations as a recording artist, he began writing songs at Southlink that led to a new chapter in his ministry and signing a record deal with Beach Street Records/Provident Music Group. His major label solo debut, The Blessing, introduced a wider audience to Waller's music, earning a Top 10 "Faces to Watch" nod by Billboard (2007). He followed his debut with While I'm Waiting, which included the poignant title track featured in Fireproof. The music video to the title track of his most recent album on City of Peace Media, As For Me and My House (2011), has received over 2.7 million views on Youtube to date. With the release of Crazy Faith, the next chapter for Waller is beginning. Waller currently resides with his wife and nine children in Atlanta.
For more information on John Waller and his touring, visit johnwalleronline.com
John Waller Tour Dates/Events:
9-Sep, Momentum, Orlando, FL
12-Sep, New Hope Church, Harrisburg, PA
16-Sep, River Rock, Lake George, NY
20-Sep, Roswell Banquet., Roswell, NM
23-Sep, Lakeside Community Church, Waterboro, ME
24-Sep, Guilford Umc, Guilford, ME
25-Sep, FBC, Chester, VT
26-Sep, Liberty Baptist, Bristol, CT
27-Sep, Grace Gospel Church, Somerset, MA
6-Oct, Honor Event, Wilmington, NC
13-Oct, Honor Event, Roanoke, VA
14-Oct, Honor, Lynchburg, VA
15-Oct, Honor, Chesterfield, VA
26-Oct, Honor, Athens, GA
26-Oct Honor, Anderson, SC
27-Oct, Rocky Creek Church, Greenville, SC
29-Oct, Honor, Owensboro, KY
29-Oct, Honor, Bowling Green, KY
6-Nov, Tba, Jacksonville, IL
7-Nov, Tba, Somerset, KY
8-Nov, Buffat Heights Baptist, Knoxville, TN
* Tour dates and events subject to change
About City of Peace Media and City of Peace Films:
The primary focus of City of Peace Media and City of Peace Films is to provide a framework where music, films and video with "redeeming value" can be developed, produced and distributed worldwide, bringing a message of hope, love and encouragement to this generation.
City of Peace Media is home to video award nominated and winning artists such as John Waller, who as an artist has been cumulatively streamed nearly ten million times on YouTube, and Sean Spicer, winner of Canada's GMA Covenant Award in the category of Best Instrumental Album. The City of Peace Worship line of music has reached millions, leading with the internationally acclaimed albums Adonai and Elohim. City of Peace Films is also home to the recent theatrical release of the major motion picture, The Identical (Ray Liotta, Ashley Judd), winner of the 2014 Nashville Film Festival (one of America's oldest and more popular in the Southeast).
The label's seasoned leadership includes Founder and CEO Yochanan Marcellino, the son of legendary Motown A&R producer Jerry Marcellino (Michael Jackson, Diana Ross &The Supremes, Lionel Richie & the Commodores and Smokey Robinson). Yochanan was the founder of FM Management; managing such artists as Kerry Livgren of Kansas (Dust in the Wind), Cindy Birdsong of the Supremes, Kyle Henderson of the Producers and John Waller, who has featured songs in the Fireproof, Courageous and War Room motion pictures and soundtracks. Marcellino also founded several successful record labels over his 40-year career, including Kerygma Records/Bright Star Records, City of Peace Media and its affiliates, and most recently, Identical Production Company (The Identical motion picture). Marcellino has released over 70 major music projects worldwide through his record labels and has led key divisions of several other music companies.
Record industry veteran, Don Noes serves as COO, with more than 30 years of retail marketing and music industry experience. The last two decades found Noes as SVP, Sales and Distribution, overseeing the launch and growth of Provident /Sony Music Distribution, distributing major artists such as Jars of Clay, Michael W. Smith, Third Day, Casting Crowns and Mercy Me.
City of Peace Media and City of Peace Films includes, but is not limited to, the following list of creative services: major physical and digital distribution, record production, artist management, artist development, music publishing, song development, art direction, graphic design, website development, music video production, motion picture film production and film development. City of Peace Media also consults in the following strategic areas: marketing plan development, public relations planning, radio promotion, publicity, advertising, touring and name branding. (http://cityofpeace.com/)
About Capitol Christian Distribution:
Capitol Christian Distribution is the market leader Christian and Gospel music distribution and represents a diverse range of chart topping Christian films and books reaching the US Christian and general retail marketplace, and the international Christian marketplace. Since this distribution division was launched, Capitol Christian has had more charting titles annually on Billboard's Top Christian charts than any other Christian distributor and has been named Billboard Magazine's Top Christian Music Distributor 15 times since 1995.
In addition to distributing Capitol Christian Music Group's fully-owned labels, which include Sparrow, ForeFront, and Credential imprints, as well as Motown Gospel and Worship Together, Capitol Christian Distribution has exclusive distribution agreements with Centricity Records, City on A Hill, City of Peace Media, Difference Media, Dream Records, Gaither Music Group, Green Hill Productions, Inpop, Hillsong, sixsteps records, Sonoma Music, Maranatha! Music, North Point Music, Spring Hill Music Group, Troubadour for the Lord, Universal Music Group, VSR Music Group, Advent Film Group, Alchemy, Anchor Bay Entertainment/Starz, Cinedigm Entertainment, City of Peace Films, Creative Trust Media, Getty Music, Goose Creek Productions, Friends Media, For Our Fathers Films, Foreshadow Productions, Glorious Films, Guardian Studios/Bananas, Jason Campbell Films, Jellyfish Labs, Ocean Avenue Entertainment, Pure Flix Entertainment, Vertical Praise Productions, Wanderlust Productions, Whitestone Media, Zayatoonz, Worthy Publishing, Authentic Publishers and many more. Capitol Christian Distribution is a division of Capitol Christian Music Group, which is part of Universal Music's Capitol Music Group. For more information, visit capitolchristiandistribution.com.
###
For more info on John Waller visit the JFH Artists Database.