Rend Collective's Campfire Christmas: Volume 1 Available October 23
Rend Collective to rejoin Chris Tomlin on "Love Ran Red Tour"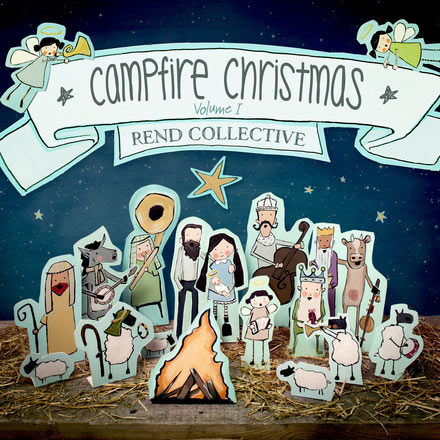 NEWS SOURCE: The M Collective
September 30, 2015
Nashville, Tenn. (September 29, 2015) ó Northern Irish worship band Rend Collective will bring Christmas spirit to listeners everywhere October 23 with the release of Campfire Christmas: Volume 1. The celebration band is drawing from their Irish roots and putting their own folkier spin on classics such as "O Holy Night (O Night Divine)" and "We Wish You A Merry Christmas."
Fans can get an idea of what to expect from the album from "Joy To The World (You Are My Joy)," set to hit radio this Christmas season. Click below to check out the official music video for Rend Collective's upbeat version of the song.
Rend Collective's fifth studio album, As Family We Go, released last month, hitting No. 19 on the U.K. Albums Chart and No. 9 on U.K.ís Digital Albums Chart, making it the highest debut for a Christian album in the U.K. in almost 20 years and the highest ever Christian album debut on the U.K. Digital Albums Chart. As Family We Go also hit the No. 1 spot on the iTunes Christian albums chart in the U.S., U.K., Canada, Australia and New Zealand and landed in the top ten albums overall in seven countries including the U.S., U.K. and Canada.
This October, Rend Collective will once again hit the road with Chris Tomlin for the second leg of his "Love Ran Red Tour." For additional tour information, click here.
Campfire Christmas: Volume 1
1. We Wish You A Merry Christmas
2. Hark! The Herald Angels Sing (Glory In The Highest)
3. Ding Dong Merrily On High (The Celebrationís Starting)
4. Joy To The World (You Are My Joy)
5. O Come All Ye Faithful (Let Us Adore Him)
6. Shining Light
7. O Holy Night (O Night Devine)
8. Joyful, Joyful, We Adore Thee (Rejoice Rejoice) [feat. Urban Rescue]
9. A Joyful Reprise
10. Merry Christmas Everyone
11. For All That You Have Done
About Rend Collective Hailing from a small town off the coast of Northern Ireland, Rend Collective (Gareth Gilkeson, Chris Llewellyn, Ali Gilkeson, Patrick Thompson and Stephen Mitchell) wants to be known as a celebration band, worshiping for Godís Glory and fame. Since the release of their first album, Organic Family Hymnal, the groupís authentic and energetic style of worship has attracted an international audience, with career sales of more than 300,000 albums. The group saw early success as their first ever single ďBuild Your Kingdom Here,Ē peaked at No. 12 on the National Christian Audience Chart. Their 2014 release The Art of Celebration, charted at No. 1 on the Billboard Christian Albums Chart within the first week of its release. Known for their electric lively worship, the band has been a part of several major tours with top artists such as Chris Tomlin, MercyMe, Kari Jobe, Lecrae and more. Rend Collective is currently preparing to embark on two headlining tours in 2016. The groupís anticipated new album, As Family We Go, is available now.
Get Connected With Rend Collective
Website: http://rendcollective.com
Facebook: http://facebook.com/rendcollective
Twitter: https://twitter.com/rendcollective
Instagram: https://instagram.com/rendcollective/
Spotify: http://tinyurl.com/rendcollectivespotify
Apple Music: http://smarturl.it/AsFamilyWeGoAPL
Google Play: https://play.google.com/store/music/artist/Rend_Collective?id=Awch4mrsu4hi5utotmvhpytjiqq
###
For more info on Rend Collective, visit the JFH Artists Database.