NEW ARTIST OF THE YEAR DOVE AWARD NOMINEE, ABOUT A MILE, SIGNS WITH RADIATE MUSIC
ROCK ANTHEM, "TAKING BACK," HITS RADIO TODAY, DIGITAL RETAIL OCT. 30

FIGHT CLUB-LIKE "TAKING BACK" VIDEO RELEASES OCT. 30

FACEBOOK VIDEO DEDICATED TO VICTIMS/FAMILIES OF OREGON SHOOTING GOES VIRAL

"We're taking back the right to be bold in a world of compromise" - About A Mile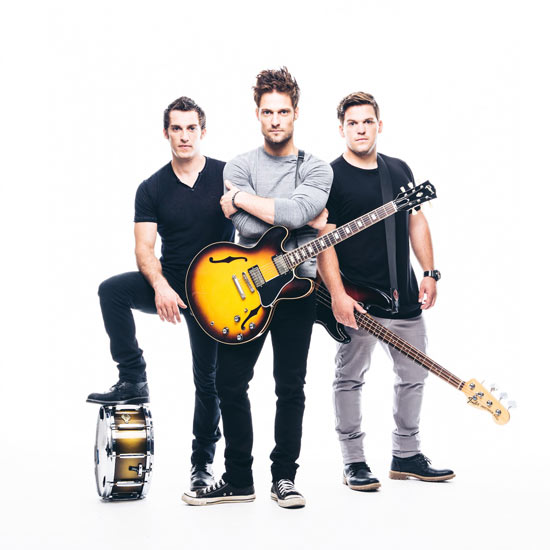 NEWS SOURCE: Hoganson Media
October 9, 2015
New Artist of the Year Dove Award nominee, About A Mile, consisting of brothers Adam, Luke and Levi Klutinoty, released their self-titled album amidst widespread acclaim, summer 2014. The recording quickly launched onto the retail charts to become 2014's biggest selling Christian album debut from a new artist. The band returns today with the rock anthem, "Taking Back," the first new music since signing with producer Ian Eskelin's Radiate Music.
Hinting at new music to come as the band is in the studio now working on their sophomore album, About A Mile's "Taking Back" hits Rock/CHR Christian radio today, goes to digital retailers Oct. 30 through The Fuel Music distribution and will be released as a Fight Club-themed music video Oct. 30.
I'm taking the hits, straight to the chin
White knuckle fists, strike again and again
But I won't be afraid, cos I know who wins
If God is for me, who can stand against...
"We're taking back the right to be bold in a world of compromise," says About A Mile frontman and guitarist, Adam. "It's time for us to be the bold men of valor we are created to be! We're not only unafraid of the Giants in this life, but we're also coming after them on a mission to take back the peace they've stolen from our minds, the dreams they've taken from our hearts and the confidence they've tried to extinguish from the warriors of an undefeated God! We're not afraid!"
The song finds About A Mile rejoining Grammy-nominated, two-time Dove Award-winning Producer of the Year, Ian Eskelin, who produced several cuts on the band's debut, and who heads the Radiate imprint.
"From the moment I saw About A Mile play a show in a church basement for 30 people, I was hooked," says Eskelin. "Their passion for delivering the truth and their 'leave it all on stage' style is compelling and contagious. I love these guys."
"I feel extremely blessed and lucky to be working with Ian Eskelin!" exclaims Adam. "We've been through a lot together and have a common interest to make the best music possible. He's also just a great man that we respect, who works with the underdog that has a message he knows the world needs to hear. That's rock 'n' roll!"
About A Mile, whose name originates from the belief that Jesus carried his cross "about a mile," has carried their message from coast-to-coast. Lauded for their musicianship, authenticity and labeled "musical chemistry perfected" by one critic, the band has hit some of the nation's biggest venues as a featured band on Winter Jam. They have also toured with Sidewalk Prophets, DecembeRadio and more.
For all the latest tour dates and more About A Mile information, go to www.aboutamile.com. To follow the band on Twitter, go to @AboutAMile, and to like the band on Facebook, go to facebook.com/aboutamile, where Adam's recent "I Hate Hate" video, dedicated to the victims of the Oregon shooting and their families, is going viral with more than 100,000 views received in a week.
About Radiate Music:
Founded by GRAMMY nominated, Dove Award-winning Songwriter and Producer of the Year, Ian Eskelin, Radiate Music launched summer 2015. Eskelin's 20-plus-year resume in the music business, ranging from being a recording artist to a record executive, gives him a unique perspective in partnering with artists who are passionate about impacting culture with music. Eskelin, who has recorded more than thirty Top 10 singles in the United States alone, including 14 No. 1 songs, and whose songs have been licensed for use by ABC, NBC, CBS, Spike TV, Style Network, Soul Surfer and many other movies, is looking to break additional ground with Radiate. Radiate's artist roster includes The Neverclaim, About A Mile, Pearl City Worship and Austin and Lindsey Adamec.
About The Fuel Music:
Established in 2008, The Fuel Music & Management, LLC, is one of the leading independent distributors of music, CD's, tapes and vinyl records internationally and enjoys a growing base in artist merchandise sales. Based in Tennessee, the Fuel team brings nearly 70 years of combined music industry experience in record label operations, record distribution and marketing (EMI Label Group), and artist management for artists ranging from upstart bands to GRAMMY Award nominated, multi-platinum artists. More information on the company can be found at www.thefuelmusic.com.
###
For more info on About A Mile, visit the JFH Artists Database.