Surprise! Crowder Drops Neon Porch Extravaganza Live EP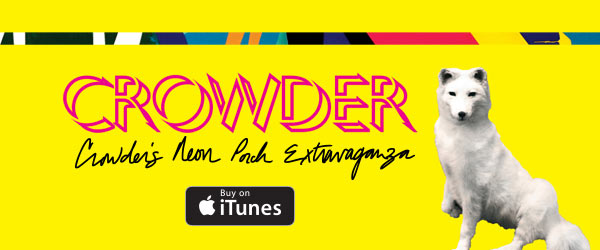 NEWS SOURCE: Capitol CMG
October 30, 2015
GRAMMY acclaimed artist Crowder has unveiled Crowder's Neon Porch Extravaganza today, surprising listeners with a live album recorded in his new hometown of Atlanta. Complete with his famed touring sidekick, Kenny Rodgers The Arctic Fox, as the cover art, Neon Porch Extravaganza features six newly recorded live songs and a video element from his latest album, Neon Steeple, which boldly debuted at No. 8 on the Billboard Top 200.
Grab Crowder's Neon Porch Extravaganza exclusively on iTunes today. #NeonPorchExtravaganza
You can also visit http://kennyrodgersthearcticfox.com to download additional album covers and swap them out within iTunes!
Track List:

My Beloved (5:54)
I Am (4:06)
Lift Your Head Weary Sinner (Chains) (4:12)
Hold On We're Going Home (1:43)
Come As You Are (4:41)
Hands Of Love (5:18)
###
For more info on Crowder visit the JFH Artists Database.