The Rocket Summer Releases ZOETIC on February 26th
"Same Air" Video Features Hannah Simone of New Girl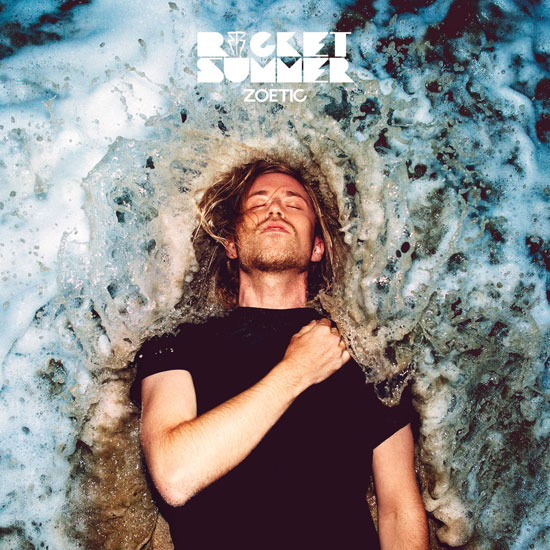 NEWS SOURCE: Reybee
January 8, 2016
"I basically fell in love with music all over again, like I had when I was first learning to play," says Bryce Avary of THE ROCKET SUMMER about his new album, ZOETIC which will be released on February 26, 2016 on Aviate Records. "My only mission was to be as creative as possible, and to push myself further than ever." The evolution of the indie pop band led by singer/songwriter/producer/multi-instrumentalist Avary has brought him to a creative crossroads that forced him to rethink his process of writing the kind of music that has amassed him a legion of diehard fans in the alternative community. "There wasn't any kind of deliberate attempt to make something that would be this different from my past records," Avary states. "I just knew that I wanted to tear down any barriers, including the subconscious ones, and make a record that had no rules. So I just followed the songs that were coming out of me and made sure there were no boundaries in the process of arranging and recording them. That approach allowed me the freedom to push myself to make sure everything that was being recorded would be something new and unique."
The result, Zoetic is his most accomplished album to date. "The word 'zoetic' is defined as 'of or relating to life. Living, vital, alive'... which to me is how this album sounds and feels," he explains. Rife with rhythms, song structures and even sidesteps that shift him slightly outside of the alt-pop genre, the album takes him in a whole new direction while sounding very much like The Rocket Summer. It's the sound of growth and experimentation without sacrificing his trademark love of melody and soaring choruses. Epic in scope but still very emotional in weight, Zoetic finds Avary in a whole new frame of mind. "I didn't want to make a sappy record," he continues. "I wanted to make a record that sounds like bombs going off, because that's what my mind felt like. There's a certain manic nature in these songs that I really like, and a restlessness that feels really honest to me."


"Same Air" video
From the opening electronic pulses of the sultry first track "Cold War", Zoetic breaks open the door to Avary's new exploration of music. Jumping from ice-cold falsetto to deep funk within the same measure, it's a perfect introduction to what he has in store. The first single "Same Air" was described by Diffuser as "evoking the likes of Foster the People and Justin Timberlake" - a good indication of Avary's musical experimentation. Called an "upbeat, guitar-driven song" by Idolator who premiered the video earlier this week which features television star Hannah Simone who plays "Cece" on Fox's hit series New Girl ("Having her in the video really made it more visually stunning. She rules," he told the website). "You Are, You Are" kicks off with a delicate and mesmerizing swirl and flows into a hard-edged rocker before ebbing back to a plaintive falsetto. Spread over 11 tracks, Zoetic is bursting with vitality and life - it's the sound of The Rocket Summer taking off again, ready to explore the next chapter wherever it leads him.
Pre-order Zoetic on iTunes and get an instant download of "Same Air" - smarturl.it/iTunesZoetic
Pre-order Zoetic on CD or colored vinyl at Pledge Music - http://www.pledgemusic.com/projects/therocketsummer
Since its full-length debut Calendar Days to its previous album Life Will Write the Words, The Rocket Summer has amassed considerable Billboard album and single chart action, a major label deal, and worldwide tours. Going fully independent with his own label Aviate Records in 2012, Avary continued with chart action (despite it being an indie release) with his album Life Will Write the Words which debuted at #58 on the Billboard Top 200 and #12 on Top Modern Rock/Alternative Album chart, proving his indelible impact on the music world.
"Obviously I'm very different now," Avary concludes. "But one thing that hasn't changed is that I still view music as being the most beautiful and mysterious gift on this planet. I'm always thinking about how much more music I can make, how much further I can push it, how much more I can learn and how much further the music will take me. I know that I haven't gotten to the place where I'm headed musically, and maybe I never will, and that pushes me to keep going. I always feel like it's still just the beginning."
Zoetic will be released on February 26, 2016 via Aviate Records. A tour to support the release will be announced shortly.
ZOETIC
TRACKLISTING:
1. Cold War
2. Same Air
3. UNI
4. Help Me Out
5. Get Over It
6. White Fireworks
7. You Are, You Are
8. FL, CA
9. Rule of Thirds Kind of Life
10. Sharks
11. Emergency Landings
###
For more info on The Rocket Summer visit the JFH Artists Database.