GRAMMY AWARD WINNER LECRAE SHOCKS FANS WITH SURPRISE THIRD INSTALLMENT OF HIS ACCLAIMED MIXTAPE SERIES
"CHURCH CLOTHES"
Lecrae's Surprise Midnight Release Of Mixtape Church Clothes 3 Debuts
As #1 Rap/Hip Hop Album On Billboard Chart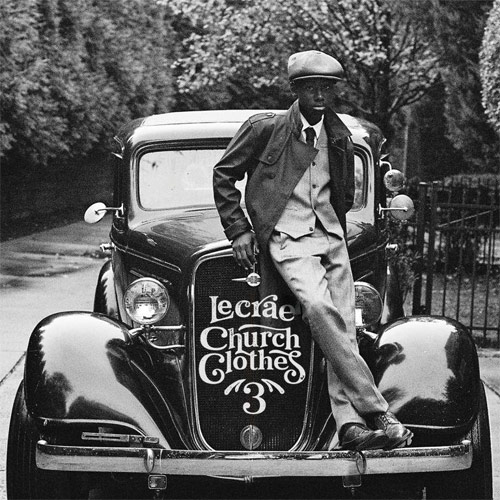 NEWS SOURCE: 'stache media
January 27, 2016
January 27, 2016 - New York, NY - At midnight, Jan. 15th, chart-topping hip-hop artist Lecrae released a surprise mixtape, Church Clothes 3, the third installment to his critically acclaimed mixtape series Church Clothes. He released the mixtape filled with the first new material since his Grammy-award winning album Anomaly to a fan-frenzy that can only be accurately described as pandemonium.
The mixtape album officially debuted as the #1 Rap/Hip Hop album on the Billboard chart. CC3 also charted as the #1 Independent album, #3 Digital album, #7 on the Albums chart and #12 on the coveted Top 200 Album Chart. This follows his record breaking seventh studio album Anomaly which took the world by storm in 2014 and gave Lecrae his best debut at #1 on the Billboard 200 Album Chart as well as several other Billboard charts including, Digital Album, Rap Album, Christian Album and Gospel Album. As noted by Billboard Magazine, Anomaly "was the Grammy winner's sixth No. 1 on the Gospel Albums chart and his fifth leader on Christian Albums." Consequently this means that, Anomaly was "the first title to crown both Gospel Albums and the Billboard 200, and just the fifth set to lead both Christian Albums and the Billboard 200."
Church Clothes 3 is available via Reach Records for digital purchase and streaming across all DSPs including iTunes. Fans can also purchase a copy at DTLR stores, the lifestyle retailer exclusively carrying the physical release.
Church Clothes 3 was executive produced by S1 (Kanye West, Jay-Z) and features guest artists E-40, N'Dambi, Propaganda, John Givez, JGivens, Jackie Hill Perry and Lecrae's label mate KB.
Lecrae followed the release with a long form video available at:
The video features a storyline that loosely touches on the life of a teenage gang member who gets shot and his friend contemplates revenge. The video features four songs from Church Clothes 3 including "It Is What It Is," "Gangland," "Deja Vu" and "Misconceptions 3."
Lecrae's Church Clothes series has been met with critical praise and impressive chart success. Church Clothes 1 soared to double platinum status on the mixtape site DatPiff.com. Once released to iTunes, it debuted at No. 10 on the Billboard Christian Albums and Gospel Albums charts. Church Clothes 2 accumulated over 100,000 downloads on DatPiff.com in two weeks, and debuted at No. 21 on the Billboard 200 chart, No. 1 on the Top Christian and Gospel charts, and No. 3 on the Top Rap chart.
Church Clothes 3 Track Listing:
1. Freedom ft. N'Dambi (Prod. by S1/ Co-Prod. by Epikh Pro & VohnBeatz)
2. Gangland ft. Propaganda (Prod. by S1/Co-Prod. by Shindo)
3. Deja Vu (Prod. by S1)
4. Sidelines (Prod. by Mykalife and Ryan Righteous)
5. Cruising (Prod. by S1/ Co-Prod. by Epikh)
6. It Is What It Is (Prod. by S1/ Co-Prod. by Epikh)
7. Can't Do You ft. E-40 (Prod. by Black Knight)
8. Forever (Prod. by S1)
9. Misconceptions 3 ft. John Givez, JGivens, Jackie Hill Perry (Prod. by S1)
10. I Wouldn't Know ft. KB (Prod. by GAWVI)
Lecrae, known for his music message that is often at odds with his hip-hop peers, speaks of monogamy, contentment, and faith. Lecrae's message spreads beyond his music, however. He's a sought out guest speaker for major conferences and many professional sports teams throughout the year. On May 3, Lecrae adds author to his list of endeavors in 2016 with the release of his memoir, Unashamed. Fans who pre-order the book are given the choice of exclusive campaign items including a song track by Lecrae, an Unashamed 116 t-shirt, and more. Fans will claim their prize at UnashamedBook.com.
This month tickets went on sale for the Higher Learning Tour. Featuring special guest DJ Promote, and on selected dates, Propaganda, Swoope and Liz Vice, the tour kicks off February 9, 2016 stopping at more than 30 college campuses and in college towns across the country. For ticket information and a complete venue listing, please visit Lecrae.com/Tour.
About Lecrae:
Lecrae is a Grammy award winning hip-hop artist whose 2014 album, Anomaly, debuted at #1 on the Billboard Top 200, Rap, Digital, Christian, Gospel, and Independent charts. His seven studio albums and mixtapes have sold more than 1.5 million copies. Lecrae has been nominated for five Grammy Awards, including a win in 2013 for Best Gospel Album and Best Contemporary Christian Music Performance/Song in 2015, as well as won seven Dove Awards, won a Billboard Music Award, won two Soul Train Music Awards and a BET Hip Hop Awards nomination. Lecrae resides in Atlanta, Georgia with his wife and three children.
For more info on Lecrae, visit the JFH Artists Database.

###