Platinum-Selling Artist Tamela Mann Releases New Single "One Way" To Gospel Radio
Mann Performs "One Way" on BET's Celebration of Gospel Sunday, January 31

"One Way" Single Available Now on iTunes and Other Online Stores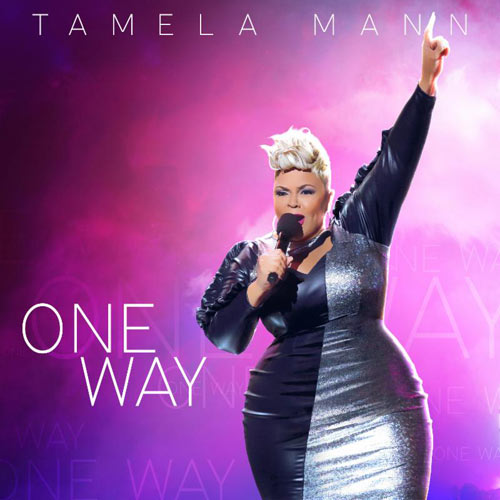 NEWS SOURCE: TKO Marketing
January 29, 2016
DALLAS (January 29, 2016) -Platinum-Selling Artist and Grammy Award® Nominee Tamela Mann releases her highly-anticipated new single, "One Way," to Gospel radio February 1 following her debut performance of the song on BET's top-rated Celebration of Gospel airing Sunday, January 31, 2016. "One Way" marks the first Gospel radio single release following Tamela's three trailblazing consecutive No. 1 hits and is the title-track on her forthcoming 2016 album, One Way. The single "One Way" is now available on iTunes and other online stores.
"I've been working in the studio for the last 12 months recording new music, and I'm excited to release "One Way" in partnership with my Gospel radio family for all of my fans who have supported my music throughout the years," said Tamela. "My production team and I took this track in a totally different direction than what you might expect from a Tamela Mann single - I can't wait for everyone to hear it."
Written and produced by Eric Dawkins, "One Way" is an unexpected sizzling up-tempo track from the powerhouse vocalist whose soaring ballads have reached the apex of the Gospel radio charts. The song is featured on her upcoming Tillymann Music album release, hitting stores and digital retailers second quarter. One Way marks Tamela's fourth solo studio album and is produced by Myron Butler and David Mann. The album also features guest producers Timbaland, Kirk Franklin, Eric Dawkins, King Logan and Shaun Martin.
Get the "One Way" single on iTunes now: https://sc.lnk.to/Uc1Rh
Catch Tamela's performance of "One Way" on Celebration of Gospel airing on BET Sunday, January 31 at 8:00 p.m. EST.
In addition to releasing new music this year, Tamela stars in the second season of It's A Mann's World (BET, February 23 season premiere) and Mann & Wife (Bounce TV, Spring 2016) starring alongside her husband, David Mann.
For the latest updates on all things Tamela, check out:
WEBSITE: http://www.tillymannmusic.com/
FACEBOOK: https://www.facebook.com/davidtamelamann
TWITTER: https://twitter.com/DAVIDANDTAMELA
INSTAGRAM: @DavidandTamela
PERISCOPE: DavidandTamelaMann
ABOUT TAMELA MANN Tamela Mann is an accomplished NAACP Image Award winner, GRAMMY® Award nominee, BET Award winner, 7-time Stellar Gospel Music Award and two-time GMA Dove Award-winning singer, actress, songwriter, producer, and businesswoman. Tamela's seven-time Stellar Gospel Music Award-winning, two-time GMA Dove Award-winning album Best Days debuted in 2012 at No. 1 on several music sales charts and includes the No. 1 platinum-selling single "Take Me To The King," which earned Tamela her first GRAMMY ® Award nomination for Best Gospel/Contemporary Christian Music Performance. Both the album and single remained at No. 1 for a record number of weeks; the album charted at the top for 15 weeks and the single for more than 25 weeks. Tamela also scored two more consecutive No. 1 singles with "I Can Only Imagine" and "This Place" from Best Days. Tamela and David's 2016 television properties include It's A Mann's World (BET) and Mann & Wife (Bounce TV), both renewed for second seasons. Tamela is set to release her fourth solo studio album One Way in 2016.
For more information about Tamela Mann, visit http://www.tillymannmusic.com.
###