THE PASSION: NEW ORLEANS SOUNDTRACK
SET FOR RELEASE ON MARCH 18 VIA
DEEP WELL/VIRGIN RECORDS
The Two-Hour Inspirational Television Event Airs LIVE From
New Orleans on Palm Sunday, March 20, on FOX

Soundtrack Features Cast Members Jencarlos Canela,
Chris Daughtry, Prince Royce, Seal and Trisha Yearwood;
Yolanda Adams, Shane Harper and Michael W. Smith Also Featured

Fans Who Pre-order Digital Album Will Instantly Receive "Broken,"
Performed By Trisha Yearwood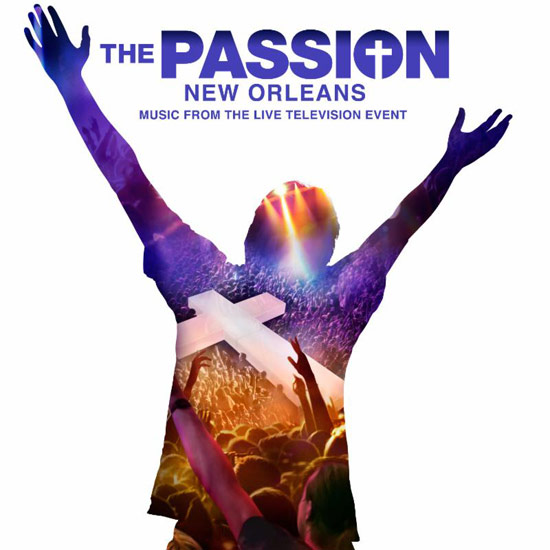 NEWS SOURCE: Universal Music
February 26, 2016
On March 18, Deep Well Records/Virgin Records will release The Passion: New Orleans, the soundtrack for FOX's two-hour inspirational television music event airing LIVE from New Orleans on Palm Sunday, March 20, (8:00-10:00 PM ET live/PT tape-delayed). The soundtrack features cast members Jencarlos Canela (Jesus Christ), Chris Daughtry (Judas), Prince Royce (Peter), Seal (Pontius Pilate)and Trisha Yearwood (Mary, mother of Jesus),plus special guests Yolanda Adams, Shane Harper (disciple) and Michael W. Smith (disciple).
THE PASSION tells the story of the last hours of Jesus Christ's life on earth through passages from the Bible and a variety of well-known pop songs, sung by the cast. All of the songs were arranged specifically for the album and live event by Adam Anders -CEO/Founder of Deep Well Records and Executive Producer and Executive Music Producer of THE PASSION - and Peer Åström, Music Producer for the event. The songs featured in THE PASSION include hits from Whitney Houston, Imagine Dragons, Evanescence, Jewel, Tina Turner, Katy Perry and Hoobastank. THE PASSION was written by Peter Barsocchini ("High School Musical") and is produced by dick clark productions, Anders Media and Eye2EyeMedia.
The video for "Broken" - one of five songs that Yearwood performs in her role as Mary, the mother of Jesus - premiered today HERE and fans who pre-order the digital album will instantly receive "Broken." The soundtrack is available for pre-order HERE. The Target and Walmart editions of The Passion: New Orleans will each contain two exclusive bonus tracks. See below for track listings.
Set in modern day, THE PASSION follows Jesus of Nazareth as he presides over the Last Supper, is betrayed by Judas, put on trial by Pontius Pilate, convicted, crucified and resurrected.
Hosted and narrated by Tyler Perry, the event will unfold live at some of New Orleans' most iconic locations, while featuring a procession of a thousand people carrying a 20-foot, illuminated cross from outside the Superdome to the live stage at Woldenberg Park on the banks of the Mississippi River.
Adam Anders and Peer Åström have ensured that the music is equally contemporary and compelling. In this trailer, Jencarlos Canela sings "Unconditionally" - a song originally found on Katy Perry's 2013 album, PRISM. In this video clip, Anders and Chris Daughtry talk about the use of the Imagine Dragons song "Demons" in the scene in which Judas betrays Jesus with a kiss.
"The cast sings powerful versions of some of today's biggest pop songs arranged specifically to help tell the story of the last hours of Jesus Christ's life on earth," said Anders. "The soundtrack makes you feel love, hope, faith, betrayal and all of the other emotions that you could imagine taking place within the story."
Anders and Åström's previous television and film collaborations include "Glee" and "Rock of Ages." Collectively, they have produced such artists as Tori Kelly, Hilary Duff, Cee-Lo Green, Jonas Brothers, Miley Cyrus, Backstreet Boys, Steven Curtis Chapman, Madonna and Enrique Iglesias.
The Passion: New Orleans -Track List
1. "When Love Takes Over" - Yolanda Adams
2. "Love Can Move Mountains" - The Passion Cast (Feat. Jencarlos, Prince Royce, Chris Daughtry, Shane Harper & Michael W. Smith)
3. "My Love Is Your Love" - Trisha Yearwood
4. "Home" - Jencarlos & Prince Royce
5. "With Arms Wide Open" - Jencarlos
6. "Hands" - Trisha Yearwood
7. "Bring Me To Life" - Chris Daughtry
8. "Calling All Angels" - Jencarlos
9. "I Won't Give Up" - Trisha Yearwood
10. "Demons" - Chris Daughtry & Jencarlos
11. "The Reason" - Prince Royce
12. "You'll Never Walk Alone" - Trisha Yearwood
13. "We Don't Need Another Hero" - Seal & Jencarlos
14. "Mad World" - Seal
15. "Broken" - Trisha Yearwood
16. "Unconditionally" - Jencarlos
Target Exclusive Tracks
"He Will Never End" - Michael W. Smith
"Hold You Up (Extended Mix)" - Shane Harper
Walmart Exclusive Tracks
"When The Saints Go Marching In" - Yolanda Adams feat. Preservation Hall Jazz Band
"With Arms Wide Open (Spanish Version)" - Jencarlos
http://www.fox.com/the-passion
http://thepassion.com
www.deepwellrecords.com
https://twitter.com/ThePassionLive
###
For more info on Michael W. Smith, visit the JFH Artists Database.