HUMBLE BEAST CONTINUES RADICAL GENEROSITY CONCEPT WITH ANNOUNCEMENT OF TWO NEW PARTNERSHIPS
HUMBLE BEAST PARTNERS WITH FAIR TRADE SERVICES FOR DISTRIBUTION

ENTIRE ARTIST ROSTER WILL BE BOOKED THROUGH CURRENT TALENT AGENCY

NEWS SOURCE: Merge PR
March 1, 2016
PORTLAND, OR - March 01, 2016 - Humble Beast, a label out of the Northwest that is a family of creative, pastors, writers, theologians and musicians, announces two new partnerships with the goal to expand their reach with a distribution arrangement with Fair Trade Services and booking for the entire roster by Current Talent Agency. Humble Beast is home to introspective artist Propaganda, the creative Beautiful Eulogy, writer and artist Jackie Hill-Perry, and JGivens.
These new partnerships allow the Portland-based label to keep their radical generosity intact while going beyond their current sphere. Humble Beast's radical generosity is their philosophy of giving away all of their music for free - no variables to hinder people from being able to benefit from the music and resource they create. See more here about their passion behind their company.
"I love Jeff Moseley's commitment to excellence and his transparent business model," shares Thomas Terry, Humble Beast Owner. "Fair Trade understands the DNA of Humble Beast, and in many ways, shares the same ministry and business philosophy. I'm very excited to partner with Jeff and the Fair Trade team."
"We are all very grateful for the opportunity to work with Current Talent Agency," expands Bryan Winchester, Humble Beast A&R and Audio Engineer. "Much of our booking at Humble Beast has been handled directly by the artists themselves or by our manager Paul Barger. What made Current stand out for us was the passion that J.R. has for music and touring. Passion has always been a vital component of everything we do. Without passion, Humble Beast probably would have shut down three years ago. We are really excited to have one company handling booking for our entire roster and after a few meetings it became obvious to our whole team that Current was who we wanted to take on that responsibility."
"Current Talent Agency represents honest music for real people," shares JR Montes of Current Talent Agency. "In conversations with these artists we've found our combined values are rooted in vision and passion for artistry. We view this relationship as an obligation to come alongside this eclectic group of artists and change the world."
In addition to the announcement of these two special partnerships, Humble Beast will release Selected Songs on March 4. Selected Songs is an introduction to HB's previous work featuring artists Beautiful Eulogy and Propaganda. It's a celebration of that work for those who have been following the label over the last six years as well as a great introduction to HB's previous work.
Fair Trade Services radio promotion team will also be releasing two singles to radio: "Exile Dial Tone" from Beautiful Eulogy and "Raise The Banner" from Propaganda. These singles will be impacting Rhythmic / Hot AC on March 18.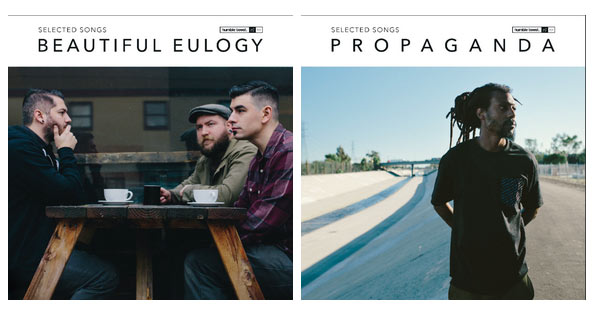 ABOUT HUMBLE BEAST: Humble Beast is a family of creatives, pastors, writers, theologians, and musicians who leverage their talents to see the Gospel go out into the community and transform lives. We do this as individuals and as a family. Individually, we live our lives as missionaries, disciple-makers, and culture-creators. As a family, we combine our efforts to create a hub of Gospel-saturated resources, communicated in compelling ways and freely shared with everyday people.. Humble Beast Records is the home of Propaganda, Beautiful Eulogy, JGivens and Jackie Hill-Perry. Humblebeast.com
ABOUT FAIR TRADE SERVICES: Fair Trade Services, LLC launched in June 2011 by music industry veteran Jeff Moseley. Fair Trade Services is a partnership based on dialogue, transparency, and respect, formed for the development of remarkable Christian artists who desire artistic excellence, cultural relevance and spiritual significance. Located in Brentwood, Tennessee, their roster includes MercyMe, Newsboys, Laura Story, Audio Adrenaline, The Afters, Hawk Nelson, Sara Groves, Phil Wickham and more. Fair Trade Services is distributed by Provident Distribution and Sony Music. FairTradeServices.com
ABOUT CURRENT TALENT AGENCY: Having worked professionally in music since 1997, the Current team has experience with artist management, live performance, merchandising, tour management, event management and more. Current Talent Agency brings life-changing music to stages around the world. Current artists include All Sons & Daughters, Amena Brown, Christine D'Clario, Citizens & Saints, DJ Opdiggy, Ike Ndolo, Jars of Clay, John Mark McMillan, Kings Kaleidoscope, Sandra McCracken, Sol Graffiti, Young Oceans. Currentmm.com
###
For more info on Beautiful Eulogy visit the JFH Artists Database.
For more info on Propaganda visit the JFH Artists Database.