Bryan Popin's "Such A Time As This" Breaks Top 30!
Rising Gospel Star Announces Summer Events with Gospel Radio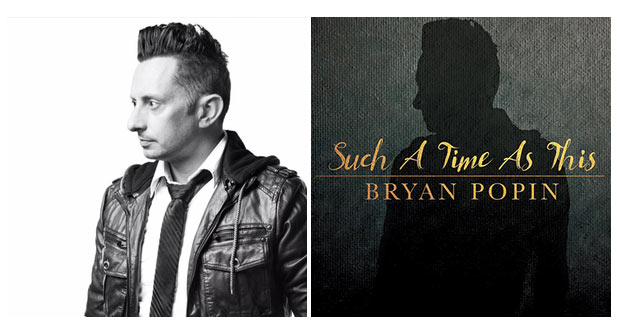 NEWS SOURCE: Conduit Media
May 25, 2016
Nashville, TN (May 25, 2016) - Rising Gospel star Bryan Popin will hit the road this summer in support of his new single, "Such A Time As This," which broke TOP 30 on the gospel chart this week and is currently trending TOP 25!
Popin will join radio stations for summer celebrations and special concerts. The first set of dates are below with others to be announced:
06.11.16 | Columbus, GA | Praise 100.7 Columbus "Family Day Music Festival"
06.18.16 | Louisville, KY | WLOU "SummerFest Praise Party In The Park"
06.25.16 | Chesapeake, VA | "Rejoice Musical Soul Food Fest"
08.27.16 | Philadelphia, PA | Radio One | "Praise In The Park"
The single, "Such A Time As This," continues to enccourage, uplift and strengthen all who hear it! Popin's message is clear: "I've felt what so many people feel, but don't always say - one moment you experience favor and a blessing you don't deserve, then the next you are so beat down you feel like it's all over. But thank God, something or someone comes along to remind you that God has placed you exactly where you are supposed to be at this moment, at this exact time! This IS your time; this IS your moment and He's with you through it all - He's not giving up on you even when we give up on yourself. I'm learning sometimes it's just another chapter to the story."
"Such A Time As This," is available now on iTunes and all digital outlets. It is the first single to follow the critically acclaimed project, I Can Make It. Popin's new album is slated to release later this year on his joint venture imprint label, Little Boy Wonder Music | Flaydo Music.
LINKS:
Website: www.bryanpopin.com
Facebook: www.facebook.com/BryanPopinMusic
Twitter: www.twitter.com/BryanPopin
Instagram: www.instagram.com/BryanPopin
Youtube: www.youtube.com/BryanPopin
###