CHRISTIAN POP SINGER-SONGWRITER LEAH IS "MADE FOR MORE" JUNE 7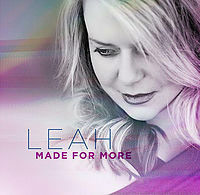 NEWS SOURCE: Leah Michele
May 25, 2016
NASHVILLE, Tenn.- Following the critically applauded release of her Every Move EP in 2014, ethereal pop singer-songwriter Leah readies her debut radio single, "Made for More", impacting Christian music airwaves nationwide June 7.
Produced by Dove Award-winning producer and musician Daniel Ornellas (Tree63, The Worship Republic) and co-written with Nashville songwriterJonathan Shaw (Joy Enriquez, Danny Gokey), the motivating electronic-infused pop anthem was born as the musical mother-of-three pondered her day-to-day duties as "mom".
"Some days I feel so unimportant, thinking about other dreams I have and how far away they feel," Leah shares. "I was reading The Prayer of Jabez for Women by Darlene Wilkinson, and the very first chapter is called 'Made for More'. I realized, though it can be monotonous to be a stay-at-home mom, my job as a mother is vital. Yes, I'm made for more than just being a mom, I've been made to raise up the next generation of Christ followers. Three of them are right under my nose, everyday."
"Mulling it over, this chorus came to me, You were made to live / Made to give / Made to love / You were made for more. I took the idea to my friend and fellowsongwriter, Jonathan Shaw, and we sat in a room at Capitol CMG in Nashville one afternoon and completed the song."
After being named "Christian Artist of the Year" by the Christian Music Industry Academy in 2013 - a Nashville-based workshop founded by Dove Award-winning singer-songwriter Phillip LaRue to help indie artiststransition into a full-time music career - Leah released her second independent project, Every Move, including the song, "I Am Here," penned with LaRue and prompting CCM Magazine to laud the burgeoning artist as a "songwriter well-versed in what works for radioplay."
An Oklahoma native, Leah has performed concert dates around the country, including opening for Jesus Culture's Kristene DiMarco in 2013. Her first Christmas EP, Let Us Adore, releases this fall, followed by a full-length studio recording in 2017. When not fulfilling her professional dreams of recording and performing, Leah is fulfilling her personal dreams as a wife and mother of two daughters and one son.
For further information, visit leahmusiconline.com. Follow her on Twitter @leahmusiconline.
###