We Are Leo's Kickstarter Campaign For Their New Album, The Rush & The Roar Is Coming To A Close
Four Days Left To Pre-order The Rush & The Roar on Kickstarter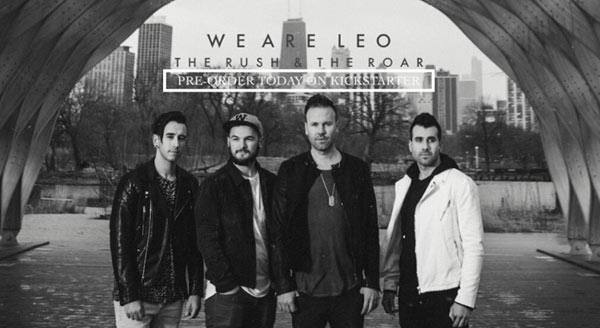 NEWS SOURCE: DREAM Records
May 25, 2016
Los Angeles, CA (May, 2016) -- We Are Leo recently announced the pre-order for their upcoming album, THE RUSH & THE ROAR on their Kickstarter. Every pre-order comes with an immediate download of one song off the upcoming record. The group also have limited edition pre-order packages with signed WE ARE LEO CDs, posters, t-shirts, and more! They are reaching their fans and supporters to help support their album which comes to close in 4 days.
Check out the making of their video here:
"Every morning when I wake up, I am thankful to have a reason to make music. I'm thankful for the hope God has given me and the people who have supported me & WE ARE LEO. I love sharing our music and heart with all of you! The last 2 years we've been on the road to taking in the sounds and motion of life on tour. From sunrises over the Atlantic, to sunsets out west, we've been sharing music and hope! We've shared laughter and tears, and we've felt the weight of the broken but beautiful world that we live in. I've been intensely challenged, but through the testing of my faith, I've found a clearer perspective and a deeper closeness to God. I can't wait to get back into the studio and put everything I've learned into words and music. Being an up-and-coming band that sings about God & hope, we have a very unique and special relationship with our fans and loyal supporters. We depend on the people that believe in our music to keep us going. If you like what you've seen and heard from us in the past, please consider pre-ordering to help us make THE RUSH & THE ROAR a reality!" - David Duffield, We Are Leo
The Rush & The Roar will be the band's first album of original songs since their 2014 release entitled Fightback Soundtrack.
ABOUT WE ARE LEO:
Hopeful & fun, WE ARE LEO is the latest in heartfelt, creative, cutting-edge Christian music. With a lyrical depth and refreshing originality, WE ARE LEO sings about God's love and finding hope in the everyday. Their unique way of expressing their faith inspires teens and young adults around the world, helping them find emotional healing, overcome depression, and come to a stronger faith in Christ. WE ARE LEO started seven years ago in Kenosha, WI when Starbucks barista & part-time missionary, David Duffield, and his brother, graphic designer & youth leader, Jonny Duffield, built a make-shift recording studio and started cranking out rough, but passionate demos. They soon teamed up with worship leader/guitarist, Doug Weier, and eventually, guitarist, John Panzer, to meld their music, style and message into a synth-driven, pop-rock band with up-front guitars & contagious, upbeat hooks. WE ARE LEO states: "We believe that through these songs, young people will find hope, life and joy. We believe chains will be broken. We're fighting back against depression, doubt, apathy & addiction with the truth and love of Christ. We know that we live in a broken world but we know we don't have to let the failures and lies keep us down. This is music for those who want to live life to the fullest. It's for the dreamers, the believers; it's for the broken and the lonely who want to believe that broken hearts can find healing, and it's music for everyone who refuses to give up despite overwhelming odds."
ABOUT DREAM RECORDS:
DREAM was founded in 2008 to provide artists with a genuine approach to how real artist development should be done. By allowing for a partnership as a business model, Dream's artists empower themselves to develop and carry out a real vision for their lives as they affect other people's lives with their music and message. Incorporating social media, press, radio and touring it's allowing it's artists grow together as a family.
###
For more info on We Are Leo, visit the JFH Artists Database.