FOREVERMORE
RELEASE NEW SONG + PODCAST!
ON TOUR WITH KINGDOM OF GIANTS AND DARKNESS DIVIDED!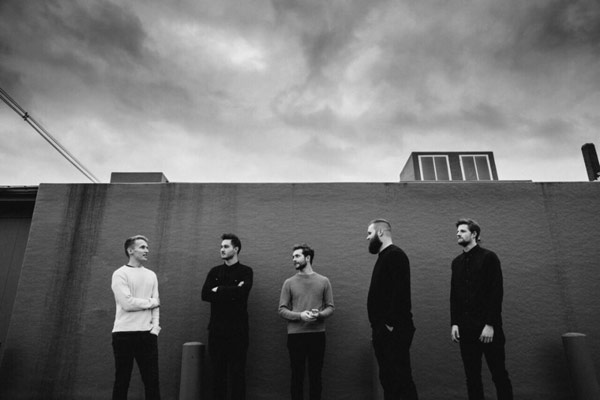 NEWS SOURCE: JG PR
July 14, 2016
Forevermore have had a busy morning! The Indianapolis metal-core outfit dropped a video for new song "Noumina." The visuals accompanying the song (of colored sand) ties into the band's forthcoming album. Integral is a concept album based around the theory of Spiral Dynamics. This theory purports that humanity has gone through a series of major shifts in its way of thinking. Each phase is represented by a different color which is represented on the album.
"Noumina" corresponds with the Purple stage of Spiral Dynamics, which arose as humanity began to move from a hunter gatherer lifestyle into a more communal or "tribal" way of living. In this stage, priorities shifted from mere survival toward ensuring the safety of the tribe and appeasing the mystical forces of nature in order to gain their favor.
Watch video for "Noumina" Here:
To further explain this concept and the development of the new album Forevermore have released their own podcast on Solid State Records soundcloud page.
Listen to the first part of Forevermore's podcast Here
Previously two other music videos from the album "Nascent" and "Order" were released.
Watch the official video for "Nascent" Here
Watch the official video for "Order" Here
Forevermore is made up of Jared Storm (guitar), Michael Taylor (guitar/vocals), Haydan Darnall (bass), Sammy Vaughn (drums) and Kramer Lowe (vocals, formerly of Onward To Olympas).
The band has just started their co-headlining tour with Kingdom Of Giants (InVogue Records) and Darkness Divided (Victory Records). Tour dates appear below
Integral Album Release Tour
Note: Kingdom Of Giants appear on tour from 7/14-8/6
Darkness Divided on all dates
07.14 • Nashville, TN @ Rocketown
07.15 • Charlotte, NC @ The Rabbit Hole
07.16 • Raleigh, NC @ Southland Ballroom
07.17 • Lancaster, PA @ Lancaster Convention Center
07.19 • Pittsburgh, PA @ Smiling Moose
07.20 • Toledo, OH @Franky's
07.21 • Clarksville, TN @ The Warehouse
07.22 • Indianapolis, IN @ Hoosier Dome
07.23 • Somerset, WI @ Sunshine Festival
07.24 • Berwyn, IL @ The Wire
07.26 • St. Louis, MO @ Fubar
07.27 • Little Rock, AR @ Rev Room
07.29 • Tulsa, OK @ The Vanguard
07.30 • Dallas, TX @ The Door
07.31 • Abilene, TX @ The Solution
08.02 • El Paso, TX @ Mesa Music Hall
08.03 • Tucson, AZ @ The Rock
08.04 • Anaheim, CA @ Chain Reaction
08.05 • Los Angeles, CA @ White Oak Music Hall
08.06 • Las Vegas, NV @ Eagle Aerie Hall
08.07 • Phoenix, AZ @ The Underground
08.09 • Albuquerque, NM @ The Jam Spot
08.10 • Denver, CO @ City Hall
08.11 • Omaha, NE @ Shamrocks
08.12 • Des Moines, IA @ Vaudeville Mews
Pre-order Integral here: http://smarturl.it/solidstore
More Info: http://www.forevermoreband.com/
###
For more info on Forevermore visit the JFH Artists Database.