ROADSIDE ATTRACTIONS ACQUISITION IS PRICELESS
for KING & COUNTRY and the Smallbone Brother's First Theatrical Film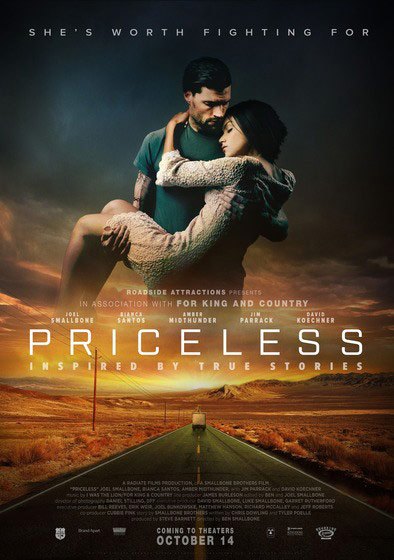 NEWS SOURCE: Icon Media Group
August 8, 2016
LOS ANGELES, August 08, 2016 - Roadside Attractions has acquired U.S. distribution rights to the Smallbone brothers' PRICELESS. From the creative minds behind the two-time Grammy Award-winning band, for KING & COUNTRY, PRICELESS stars Joel Smallbone (for KING & COUNTRY), Bianca Santos (THE DUFF), Amber Midthunder ("Longmire") with Jim Parrack (SUICIDE SQUAD, "True Blood") and David Koechner (ANCHORMAN, "The Goldbergs"). PRICELESS is the first film from the Smallbone Brothers. Ben Smallbone directs from the script by Chris Dowling and Tyler Poelle. The film was produced by Steve Barnett (300). David Smallbone and Luke Smallbone serve as executive producers, and Jacob "Cubbie" Fink is a co-producer. Roadside will release the film in theatres nationwide on October 14.
Inspired by true events, PRICELESS is the powerful drama/thriller about James Stevens who at one time was a good man with a great life -- but this has drastically changed. After the tragic death of his wife and losing custody of his little girl, James now finds himself at the darkest crossroad of his life. Angry, desperate, and unable to hold down a steady job, he agrees to drive a box truck on a one-time trip cross country for cash -- no questions asked. But when he discovers what he is delivering, he is faced with a life-changing choice. Can love, strength, and faith redefine his past and change the course of his future? This unlikely hero must risk it all, confront the forces that oppose him, and ultimately discover the life he was meant to live.
The film is a natural extension for the Smallbone Brothers brand. "Part of the DNA of for KING & COUNTRY is this idea of respect and honor in relationships and women being priceless," Joel Smallbone says. "What we've found in our beliefs as men is that people are made equal. The film continues the idea that no one is a commodity and everyone deserves to be loved and loved well. And we are fortunate to have our family on board for this journey - our brother Ben directed the film while our father David and brother Luke produced."
Roadside Attractions' Howard Cohen said: "PRICELESS is a film that will push those emotional buttons which can engage and transform. We're thrilled to work with the Smallbone Brothers on their feature film debut and look forward to bringing this powerful story to the big screen for audiences to enjoy from coast to coast."
Producer Steve Barnett adds, "Ben and Joel are incredibly talented artists. The brothers have done a masterful job of delivering a film that is not only compelling and entertaining, but also important. I expect that we will be seeing more films like 'PRICELESS' from them in the years to come."
for KING & COUNTRY's "Priceless" single has quickly risen since its debut and currently is #1 on both the Billboard and CHR charts. Following a headline stent on the arena-filled Winter Jam Spectacular and a summer of packed festival dates, this fall, the band embarks on "Priceless|The Tour [Fall2016]," their largest headline tour to date.
For more information, please visit the film's website at www.PricelessTheMovie.com.
About for KING & COUNTRY
Soaring melodies, driving rhythms, theatrical instrumentation and personal themes are the heartbeat of two-time Grammy Award winners for KING & COUNTRY. The Australian duo raised expectations with the release of 2012's Crave, winning Billboard's New Artists to Watch for 2012, and has since sold three quarters of a million albums and just this year topped the 100,000,000 mark in total streams of their music. Their sophomore effort Run Wild. Live Free. Love Strong. garnered unanimous critical praise with a #1 debut on iTunes, a headlining tour in 2014 and a 60-date arena tour during the Spring (2015). They have performed on numerous national network programs including Jimmy Kimmel Live!, The Today Show, The View and The Tonight Show and have songs featured on the Emmys, The Super Bowl, Sunday Night Football, U.S. Open, 7UP and more.
About Roadside Attractions
In just over a decade, ROADSIDE ATTRACTIONS films have grossed over $200M and garnered thirteen Academy Award® nominations. Roadside has released such critical and commercial hits as OUR KIND OF TRAITOR, LOVE & FRIENDSHIP, A HOLOGRAM FOR THE KING, HELLO, MY NAME IS DORIS, LOVE & MERCY, CHI-RAQ, MR. HOLMES, A MOST WANTED MAN, DEAR WHITE PEOPLE, THE SKELETON TWINS, ALL IS LOST, MUD, WINTER'S BONE, THE COVE, ARBITRAGE, MARGIN CALL and SUPER-SIZE ME. Its upcoming slate includes GENIUS, directed by Michael Grandage, and starring Colin Firth, Jude Law, Nicole Kidman and Laura Linney; SOUTHSIDE WITH YOU, written by Richard Tanne in his directorial debut, and inspired by the first date of Barack and Michelle Obama in Chicago in 1989; Kenneth Lonergan's MANCHESTER BY THE SEA, starring Casey Affleck, Michelle Williams and Kyle Chandler; and James Schamus' directorial debut INDIGNATION, the adaptation of the Philip Roth novel.
###
For more info on for KING & COUNTRY visit the JFH Artists Database.