Cana's Voice Album "This Changes Everything" Consistently Staying Top 10 on Soundscan Inspirational Chart
Tour Dates Expanding and Includes Dr. David Jeremiah "Stand Up Tour" in Washington, DC, Southern Baptist Metro One Conference and Christian Television Network Telethon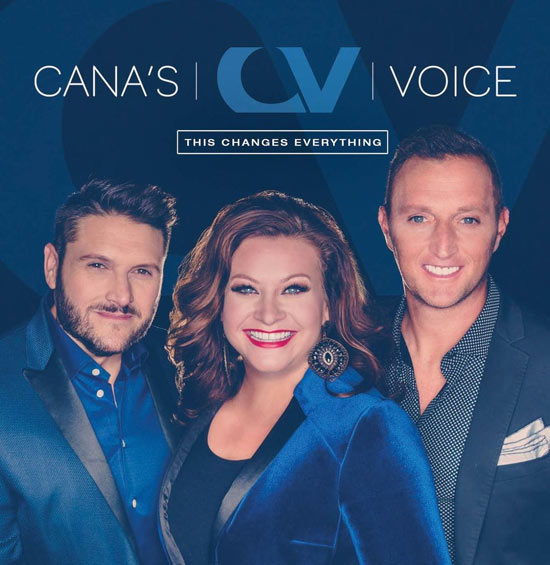 NEWS SOURCE: Bozeman Media
August 9, 2016
Nashville, Tenn. (August 9, 2016) ---- Cana's Voice debut album, This Changes Everything, has remained Top 10 on Soundscan's Inspirational Chart since its release 10 weeks ago on May 27. Upon the project's release, it debuted No. 1 on iTunes Christian/Gospel Chart and remained there for three straight days, and also ranked No. 1 for two weeks on Soundscan's Inspiration Chart. Due to the strong support of the record, StowTown Records has released "All My Reasons Are You" as the first single to the CCM market and the second single for the Inspirational radio stations. Co-written by the album's producer, Wayne Haun and songwriter Joel Lindsey ("Orphans of God", "Gather at the River"), the tune delivers lyrics praising the omnipotent God, You are the meaning of it all/you speak, and make the nations fall/You dance, and all creation moves with praise/You are faith, you are hope, you are light/You are grace.
Cana's Voice will have a hectic tour schedule this fall and winter in support of This Changes Everything. An additional 17 dates have recently been added to the group's busy calendar, which includes the kick-off concert in Nashville, Tenn. on Aug. 23, being the featured music guests for the Christian Television Network Telethon Sept. 27 and joining Dr. David Jeremiah's "Stand Up Tour" in Washington, DC on Oct. 20. More upcoming events are the Southern Baptist Metro One Conference (2017), Gaither Homecoming videotaping and the Turning Point Ministries Alaskan cruise (2017).
For continued updates and the latest information about Cana's Voice: www.canasvoice.com; www.facebook.com/Canas-Voice, www.twitter.com/canasvoice, www.instagram.com/canasvoice.
About Cana's Voice
Cana's Voice is comprised of three powerhouse vocalists; Jody McBrayer, TaRanda Greene and Doug Anderson, who formed the group in January 2016. All three members are now solo artists signed to StowTown Records, who enjoyed previous, successful careers with McBrayer being a founding member of the award-winning group, Avalon; TaRanda Greene becoming the female vocalist for The Greenes in 1997; and Doug Anderson being a founding member of the Dove Award-winning group, Signature Sound. The trio's debut project, This Changes Everything, was one of the highly anticipated projects of 2015, with CCM Magazine naming the record "as one of the five May new releases we like." The album debuted at the top of the charts for iTunes Christian/Gospel Chart and Soundscan's Inspirational Chart.
About StowTown Records
Founded in 2011 and expanded in 2014, StowTown Records reflects the musical vision of Ernie Haase and Wayne Haun, in partnership with Landon Beene and Nate Goble. The independent label is the creative home for several top artists in the Southern Gospel, Inspirational and CCM marketplaces, and quickly garnered industry attention with multiple Gospel Music Association Dove Awards and chart-topping releases.
###