Jeremi and Amy Richardson, of Avalon, Release "Piece By Piece (Restored)"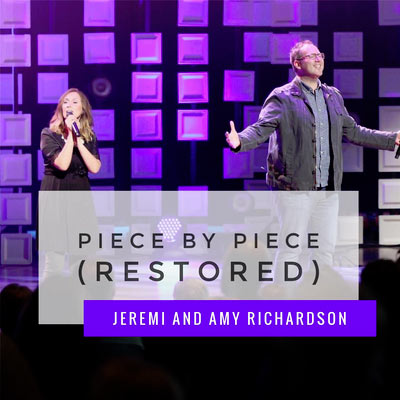 NEWS SOURCE: Jeremi and Amy Richardson
August 18, 2016
Jeremi and Amy Richardson, longtime members of the CCM group, Avalon, have a new song available for digital download. The song is called "Piece By Piece (Restored)."
This song was written on a ride home from the airport after a time of ministry in California, says Jeremi. It was one o'clock in the morning and I pulled over and made a rough demo with my phone, sent it to my band, and led the song one week later at our home church, Cherry Hills Community Church in the Denver area. The version we've released was recorded live in that worship service. There are imperfections; notes we probably would have changed; but we are fine with the flaws. We wanted the heart of this song to shine through. The message isn't perfection. The message is that God redeems and restores. He delights in us! He takes our brokenness and makes a work of art.
Since first sharing this song, the stories and testimonies people have shared are amazing. One person described the song as his life story. He was a victim of abuse and said that he would journal almost identical words to this song as a young child. He says his prayer was to never be forsaken.
Isn't it amazing that God has a way of piecing us together? His promise is restoration. Sometimes this immediately looks like a complete work of art (a puzzle if you will). There are other times that our puzzle has missing pieces. Romans 8 tells reminds us that God promises that all the pieces (good and bad) come together, with clarity, and create a masterpiece all in his perfect time.
It is an honor to have shared in music and song for many years. We always enter into concerts, worship services with specific prayers. Releasing this song also comes with a prayer. Our prayer is that as you hear this song ... that the power of The Holy Spirit will surround you and that chains of bondage will release their hold on your life. In return, you will rest in His love and breathe in the grace and love of Jesus. You are never forsaken, never abandoned ... God will never turn away; he can't, it's not in His nature.
For more information/booking you can visit Jeremi and Amy on the web: www.JeremiandAmyRichardson.com
Twitter: @jeremiandamy
Facebook: facebook.com/jeremiandamyrichardson
Instagram: @jeremiandamyrichardson
###
For more info on Avalon visit the JFH Artists Database.